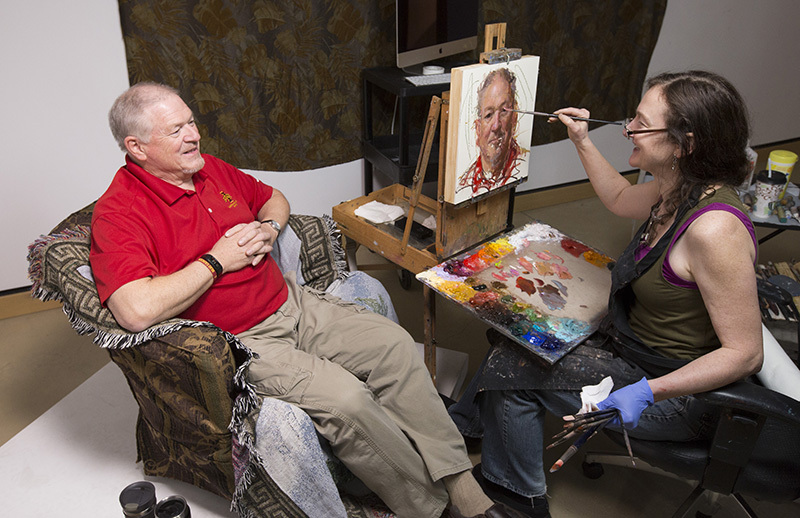 President Wendy Wintersteen will be in Fort Dodge next month to help celebrate the latest stop in the statewide tour of the "Faces of Iowa State" exhibition.
The portraits of subjects with deep ties to Iowa State -- including students, staff, faculty and alumni -- got its start at the Iowa State Fair in 2016, when Iowa artist Rose Frantzen painted 19 in 11 days. In later sittings, Frantzen expanded the collection to 39 portraits, an exhibition which opened last fall at Iowa State's Brunnier Art Museum.
"Faces of Iowa State" highlights the university's rich tradition of portraiture and shows "the development of ISU as a story of democracy where the vision, dreams and actions of individual people play a vital role in how our collective identity is shaped," according to University Museums, which organized the project and will maintain the portraits as part of its Art on Campus collection.
After its stint at the Brunnier, the traveling exhibition was on display in Frantzen's hometown of Maquoketa and at museums in Muscatine and Okoboji. The collection now is at the Blanden Memorial Art Museum in Fort Dodge through Oct. 14 and will be at the Harvester Artspace Lofts Exhibit Gallery in Council Bluffs Nov. 4-Dec. 31.
Wintersteen will join some portrait subjects and Fort Dodge-area alumni for a reception for the exhibit at 5 p.m. Sept. 26 at the Blanden Museum, and there's an easy way to join her. University Museums is offering an "art bus" from Ames to Fort Dodge, which Wintersteen also will ride.
Reservations for the art bus are first come, first served. The trip costs $20 per person. It will leave from the Iowa State Center about 3 p.m. Email sklarson@iastate.edu or call 294-3342 to reserve a spot.