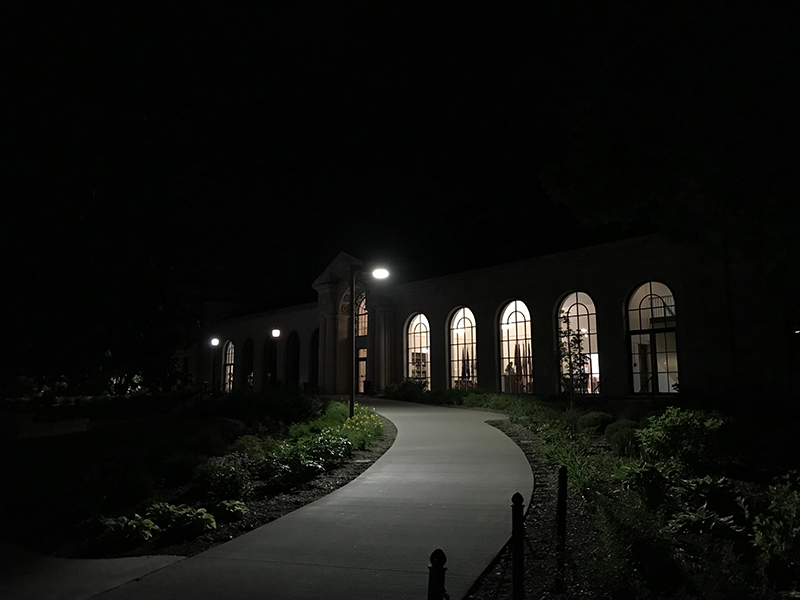 After decades of staying up all hours, the Memorial Union is finally getting some sleep at night.
Throughout its history, the MU has had residential tenants of some sort. For most of that time, including when it opened in 1928, it's been home to a hotel. On occasion, including the past two academic years, MU guest rooms have been temporary student residences.
"That required a 24-hour operation," said Corey Williamson, MU associate director.
The residence department no longer needs the extra room. Under an $11 million renovation plan initally approved by a state Board of Regents committee last week, the hotel floors will become student services office space. The lack of guests prompted the MU staff to consider the facility's longstanding open-all-hours policy, which typically extended to holiday breaks.
"With the students moving out and knowing that we'll be out of the hotel business, we kind of revisited the purpose of being open 24 hours a day, seven days a week. We found there really isn't an operational need for that level of service," Williamson said.
So on June 1, the MU started a new nightly ritual of locking the doors and turning off the lights. For the summer, it'll shut down from midnight to 7 a.m. During the upcoming school year, closing time will be a little later, at 1:30 a.m.
"We consider it somewhat of a historic change, but I think it's a change for the better," Williamson said.
Closing overnight will generate some moderate cost savings in energy and staffing. It'll also give the custodial crew, who will continue to work 24 hours a day, a chance to do more maintenance and deep cleaning, Williamson said.
"It gives the building a little bit of time to breathe," he said.
Ending overnight access will impact some night owls. On average, nightly foot traffic after midnight during the school year runs about 100 people, Williamson said. But most events are over by 1 a.m., and special arrangements will be made for the handful that run later, he said. Building access will be provided to workers who need to enter the building before 7 a.m.
"The culture has been 24/7, so we didn't want to go all the way to minimum hours. We wanted to keep the maximum hours that make sense," he said.
The change isn't set in stone. Williamson said MU staff will reconsider building hours next spring and would adjust sooner, if needed.
"Right now, we're very much evaluating," he said.