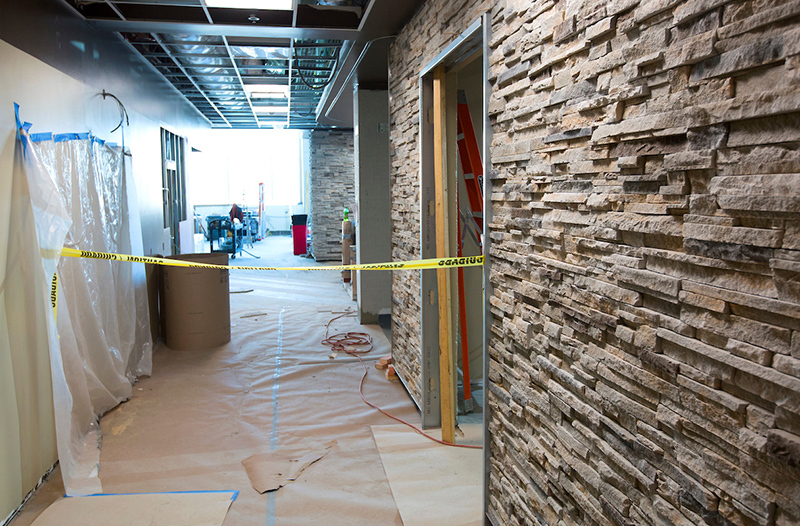 A year in the making, preceded by four-plus years of planning and reconfiguring, the College of Veterinary Medicine's new commons and café will open early this summer. About 4,800 square feet in all, it features a large commons, two small meeting rooms, vending area and a relocated, larger Gentle Doctor Café, operated by ISU Dining. The area is split equally between repurposed space and an addition built over a one-story roof on the north side of the college.
Facility manager Brian Adams called it a cornerstone for the college community.
"This space isn't institutional. It has a relaxing, calming feel to it," he said. "People can come here and shift gears for a little while."
Central campus
Other dining venues are closing this summer for renovation
Large windows and white metal panels, similar to the look at the large and small animal hospitals, overlook the yard between the college and child care facility to the north. Located near the oft-traveled fish tank lobby, the commons shares its natural daylight with adjoining spaces thanks to multiple entrances.
"We always seemed to be short of space, but now we have a really functional, comfortable area that will serve quite a few uses," said Renee Knosby, the college's director of operations.
Those include dining, group study sessions, club or department meetings, seminars, student wellness events such as yoga or Zumba, and special events including alumni functions. She said hospital clients also will use it while their animals are receiving care.
The seating will be mixed -- everything from soft seating to window counters to stackable chairs at tables -- but Knosby estimated the commons will accommodate more than 100 people.
The Gentle Doctor Café will serve Roasterie coffee and espresso drinks, fountain and bottled beverages, made-to-order deli sandwiches with a grilled option, soup, a daily hot entrée and grab-and-go sandwiches, side dishes and desserts. With the larger space and new counter configuration, traffic congestion should stay in the past, Knosby said.
The temporary location of the Gentle Doctor Café will close May 18, and the new café is scheduled to open after Memorial Day. The estimated $3.45 million project will be covered primarily with college funds and private gifts ($100,000).