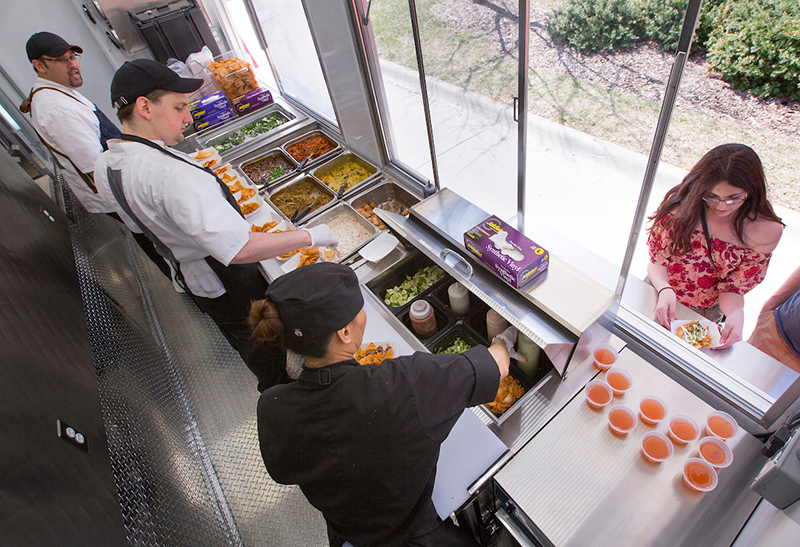 Mohamed Ali and his ISU Dining team have a busy summer ahead of them. They'll oversee about $5 million in remodeling projects and roll out the department's first food truck.
While the 2018 summer "to do" list is a bit longer than usual, Ali said summertime reinvestments are the new normal. ISU Dining needs to be in perpetual innovation mode to meet student demand. Iowa State students come from around the world, they travel more and they have broader food experiences than students even a decade ago, Ali noted. He also pointed to the influence of television food shows on students' expectations.
"We need to keep our concepts fresh for our students," Ali said. "They want options, they need flexibility, they want to eat healthy."
Following is a quick summary of this summer's activity.
Clyde's
Construction began this week at Clyde's on the ground floor of the Union Drive Community Center. Updated two summers ago, Clyde's is returning to a menu that features burgers, grilled sandwiches, fries and hand-dipped milkshakes. It will have vegan, vegetarian and gluten-free options, as well as a hot breakfast menu. When it reopens -- targeted for the second week of August -- Clyde's also will have a Starbucks coffee counter. Hawthorn Market is the other Starbucks campus location.
Dinkey's
A nod to the first powered vehicle on campus, Dinkey's is less a traditional food truck and more a mobile kitchen -- three sides of pullouts on a Ford F-550 truck. In fact, it figures in the food service component of the university's disaster plan. Dinkey's will serve walking tacos with homemade tortilla chips and a few side dish options. Ali said the range of appliances, sinks and workspace on the truck provide flexibility to alter the menu without changing the truck.
ISU Dining will take advantage of Dinkey's portability during student and university special events. Following several test events this week, Dinkey's is scheduled to start weekday lunch service (10:30 a.m.-1 p.m.) Wednesday, May 14, west of Kildee Hall.
The Hub
Central campus's Hub will be closed from May 5 to early November to renovate and reconfigure about 75 percent of the interior. The first priority is to reduce congestion by putting more space between the coffee and food venues. The new floor plan moves the coffee venue to the north end.
ISU Dining's 10-year contract with Caribou Coffee expired last fall and wasn't renewed. Replacing it, Ali said, will be a Roasterie campus "anchor store" that includes specialty drinks, premium teas and nitro coffee -- chilled, nitrogen-infused coffee served on tap from a keg.
Ali said he didn't expect to be inspired by alumnus Danny O'Neill's now 25-year-old coffee story, but a trip to the Roasterie headquarters in Kansas City converted him.
It's a high-quality, direct trade product, he said, with beans air-roasted the day they're ordered. In addition, the Roasterie contract demands a lower commission and leaves more money on campus to be reinvested. There's also "freedom to do what we know our customers want, not what the franchiser wants," Ali said.
"Heaping Plato," the Hub's new food venue, will have a Mediterranean theme featuring homemade pitas, high-quality shaved gyro-style meats and fresh ingredients. There also will be vegan, vegetarian and halal options.
The southeast corner of the building, used primarily for vending, will be walled off for back-of-house functions. Booths will be replaced with more efficient counter and table seating, and ordering kiosks will be installed, Ali said.
A phased plan for the project, in which the coffee venue opened several months before the food venue, had to be scrapped. They will open at the same time in November.
Ali said he hope to find a summer location near the Hub for Dinkey's to help meet diners' demands.
Memorial Union food court
The food court will close May 5 for a summer renovation that replaces the center beverage and cooler islands with a large build-your-own salad bar that includes meats, cheeses and hot items. A salad's weight determines its price. In the morning, it will feature hot and cold breakfast items such as oatmeal with all the fixings, eggs and breakfast meats.
Most of the existing venues in the food court will keep their menus. The Italian and homestyle food venues will close to make room for beverages and bakery and grab-and-go items, but menu items from each will rotate in the center salad/breakfast bar.
The food court floor will be replaced and wall facades updated to match the color scheme at Lance and Ellie's sandwich shop, which opened nearby in January. The sandwich deli and Panda Express will remain open this summer, and Lance and Ellie's temporarily will add breakfast service during the renovation. The food court will reopen in August before fall semester starts.