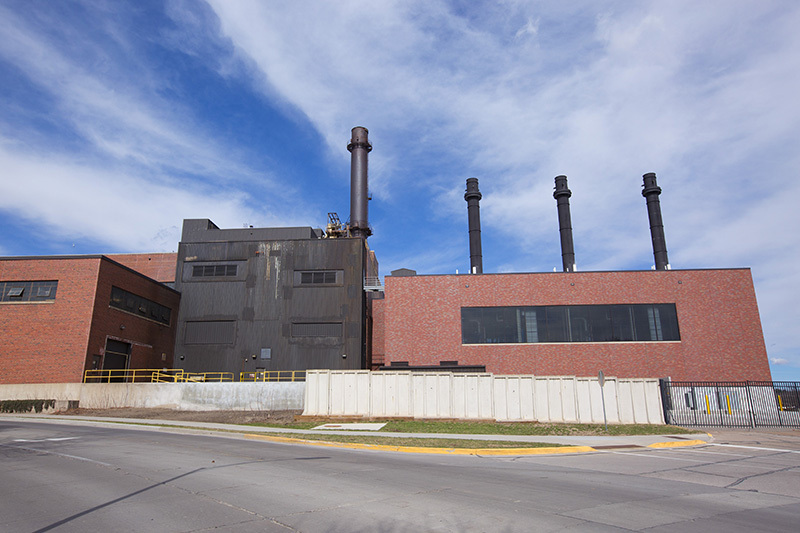 Utility crews scrambled to take advantage of the university power plant's new flexibility during the recent cold snap, temporarily reducing reliance on natural gas as its price skyrocketed -- a move that saved Iowa State nearly half a million dollars.
Jeff Witt, utilities director, said it was the first sudden fuel switch to dodge a severe price spike, a capability added in spring 2016 when the university replaced three of its five boilers with units that burn natural gas instead of coal.
"I'm pretty proud of the staff in the plant who responded," Witt said.
In normal conditions, the plant operates three boilers to heat, cool and power campus. Typically, two run on natural gas and one on coal, leaving dormant one gas boiler and one coal boiler. A fourth boiler is needed when demand increases, as it did when temperatures plummeted well below zero in the days before and after New Year's Eve. Because natural gas is usually cheaper and always greener, the plant was using all three gas boilers along with a coal boiler.
But a company that monitors natural gas costs for the university notified utility officials Dec. 28 that prices were about to shoot up 20-fold in the face of a nationwide deep freeze, Witt said. Utility workers acted fast to start up the second coal boiler to limit the use of natural gas during the cost surge, a process that takes about 12 hours. (The time it takes to fire up a coal boiler is why one gas boiler is usually left off. A gas unit can start up in 45 minutes, so leaving one in reserve ensures reliable service if a boiler has to shut down.)
The second coal boiler was in operation in place of one of the gas-fired units by Dec. 29, with a disruption of a few hours Dec. 30, when crews had to work outside in frigid temperatures to fix a bearing in the fan of a coal boiler, Witt said.
"Everything worked like it should. It wasn't easy, but it got done," he said.
By Jan. 5, the power plant resumed its normal fuel array, Witt said. The steep increases in natural gas pricing held for three days, Dec. 29-31, before tapering off last week. Switching one boiler over to coal for a week saved about $450,000 in fuel costs, Witt said.
Campus utility bills still will be a bit higher, but that increase is due to the extra heat needed to keep buildings warm during the extreme cold, not higher fuel prices, Witt said. Spikes in fuel costs are absorbed by utility services, meaning the money saved prevented a subsequent hike in standard rates next year, he said.
Most utilities hedge in some way against fuel cost spikes, so residential heating bills probably won't pass along the full cost of temporarily inflated gas costs either, Witt said. "It's all in how they manage their risk," he said.
Fuel flexibility was one of the anticipated upsides of the $42 million project to install the three gas boilers, completed to comply with new federal emissions standards. On environmental grounds, the new boilers have paid dividends already.
In fiscal year 2016, total coal consumption was cut in half to 75,000 tons. In FY17, coal accounted for 50 percent of campus energy use, with natural gas at 36 percent, a gap that will continue to shrink in FY18, Witt said. In comparison, more than 90 percent of energy usage came from coal in FY12. Emissions have fallen by more than 80 percent due to the gas boilers, Witt said.