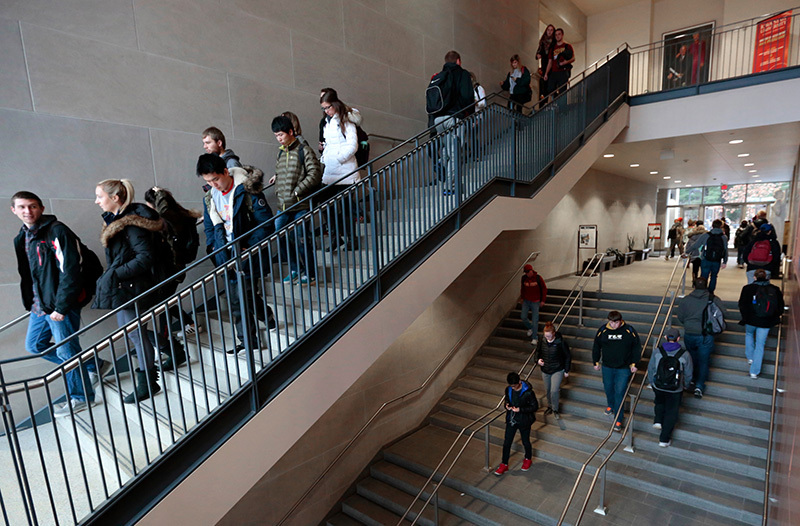 Iowa State hit a new high in spring enrollment with 34,108 students -- 449 more than last spring's record. The spring student count was taken on Jan. 23.
The university registered increases from last spring in undergraduate students (466), professional students (3) and post docs (6). Graduate enrollment was down by 26 students. The number of off-campus students (those enrolled only in distance education course sections) increased by 50, from 1,464 in 2016 to 1,514 this spring.
December commencement traditionally trims enrollment numbers from the previous fall. Last September, ISU enrollment was 36,660, an all-time high.
Spring enrollment by college
| College | 2017 | 2016 | 2015 |
| --- | --- | --- | --- |
| Agriculture and Life Sciences | 5,065 | 5,076 | 4,986 |
| Business | 4,662 | 4,377 | 3,960 |
| Design | 1,936 | 1,937 | 1,931 |
| Engineering | 8,658 | 8,420 | 8,041 |
| Human Sciences | 4,667 | 4,854 | 4,997 |
| Liberal Arts and Sciences | 7,688 | 7,624 | 7,439 |
| Veterinary Medicine | 745 | 721 | 733 |
| Interdisciplinary, graduate undeclared | 382 | 351 | 378 |
| Subtotal | 33,803 | 33,360 | 32,465 |
| Post docs | 305 | 299 | 329 |
| Total | 34,108 | 33,659 | 32,794 |