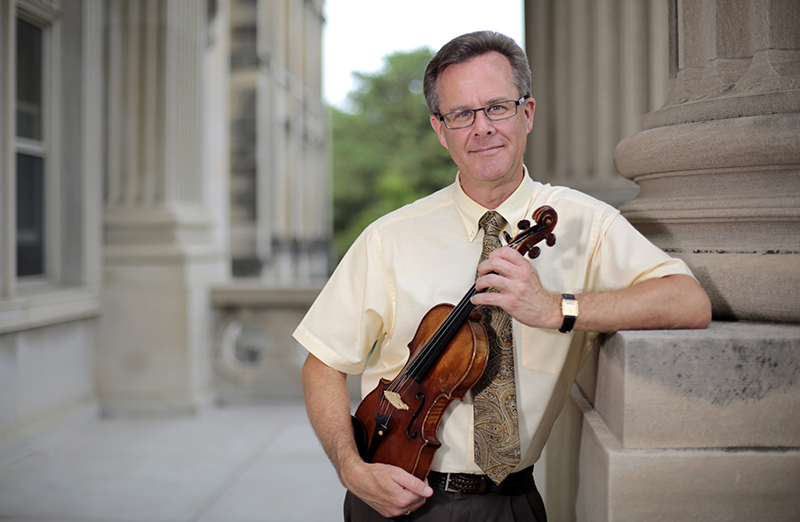 Position: Professor, music and theatre department
Year hired at ISU: 1998
Contact: 294-7399, jsturm@iastate.edu
Describe your work
I am a musician across many aspects of the discipline. As a professor of music at ISU, I teach music history to majors and nonmajors. As concertmaster of the Des Moines Symphony for 25 years, I perform on the violin. As violist in the Ames/Amara Piano Quartets, I have toured the United States and other countries performing classical chamber music -- in 2003, the Ames Quartet was the first American chamber ensemble to be invited to Cuba since its 1959 revolution. I also have collaborated with Parks Library staff and assumed various administrative responsibilities over my time as a Cyclone.
What one word would you use to describe yourself?
I am a Renaissance man. I enjoy challenging myself to be strong in as many areas of knowledge and practice as I can be.
What interests do you have outside of work?
I mostly enjoy my struggles with the game of golf, and I enjoy tasting and talking about fine wines and cheeses.
What strengths do you bring to the senate presidency?
I have served as chair of the Liberal Arts and Sciences caucus on senate, and on several committees over the past six years. But, perhaps more to the point, I am a good listener and bring a strong desire to be a connector between faculty and administration over the next year.
What is your top priority?
I hope to bring greater awareness to faculty, staff and students about the Responsible Conduct of Research and to increase the cogency of our voice for the free and open access of faculty and student research data and publications. That said, I also am passionate about advancing a welcoming and inclusive educational climate on campus, and I will work with administration, faculty, staff and students to make progress in this important area of campus climate during the next year.
What challenges face the senate?
One challenge I hope to help reduce over this next year is bringing to the general public and also the legislature awareness about just how hard faculty and staff work at ISU. Most faculty do 12 months of work in the nine months for which they are paid, and then use the unpaid three months to further advance their research and national reputations. Faculty work-weeks of 50 to 70 hours are not unusual, and I have worked those hours myself for many years. The public at large needs a clearer understanding that ISU, in fact, provides a superior value for the public dollars invested in it. Faculty teach and conduct research at extremely high levels and make a heroic effort to succeed at their work. This same description also applies to our staff.
What would you like to tell the faculty you represent?
To me, a university is a body of scholars who have collected -- almost always in the presence of a great library -- to move knowledge forward. As we work together for a better university, we must always remember that we are here for knowledge -- the discovery and transfer of knowledge is our passion and our career. All other work should serve this fundamental drive, for in this emphasis we will most efficiently move humanity, society and culture forward -- creating a brighter future for our children's generation. Let us do our work and create our policies so that all members of the ISU community can pursue the increase of knowledge to the best of their individual abilities in a stable, welcoming, yet vibrant campus.