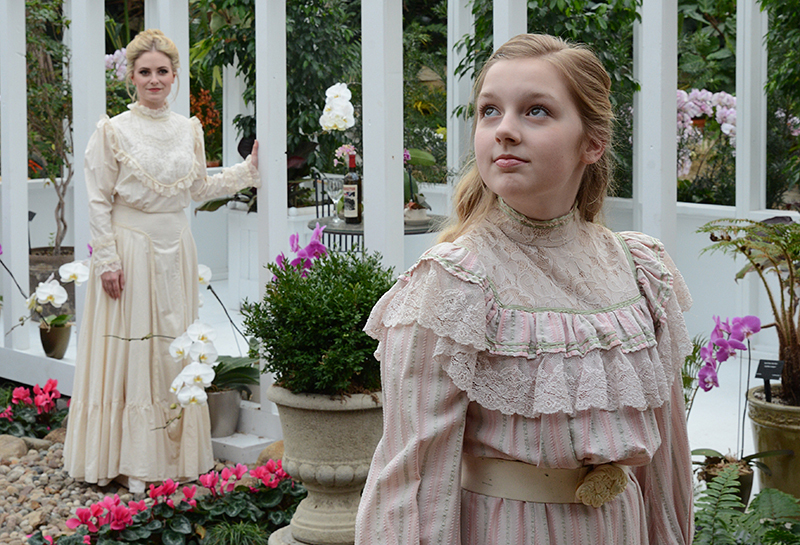 The audience will take a trip to The Secret Garden in ISU Theatre's annual spring collaboration with the music program. The production, set in early 20th-century England, is an adaptation of the 1911 novel by Frances Hodgson Burnett. It opens a two-weekend run on Friday, April 8, at Fisher Theater.
Associate professor Brad Dell is directing the 21-member cast in what he calls an ensemble-driven production.
"It certainly is a big undertaking," Dell said. "The fun part is getting all the folks to bond, collaborate and help to tell the story as a group."
The two-act musical centers around Mary Lennox, a recently orphaned 11-year-old sent to live with unfamiliar relatives. Mary, portrayed by Ames sixth-grader Kailey Gibbs, discovers a neglected Victorian garden. The unhappy girl sets out to revive the garden with clandestine help and opposition -- from people and the ghosts of their past. In the process, she begins to change her life and those of the people around her.
"Human beings are the center of this story," Dell said. "It's a universal and compelling story of the perseverance of the human spirit. It's only through letting go that the characters are able to move on and transform, like the garden."
Dell said the show is ideal for the whole family -- appropriate for children, but not just a children's story -- and that the visuals are compelling.
"The visuals have been particularly inspired by the ghost story element, and the sumptuous beauty of the music," he said.
Tickets for The Secret Garden are $24 ($16 for students) and available at the Iowa State Center ticket office or through Ticketmaster. Show times are 7:30 p.m. on Friday and Saturday (April 8-9 and 15-16); 2 p.m. on Sunday (April 10 and 17).