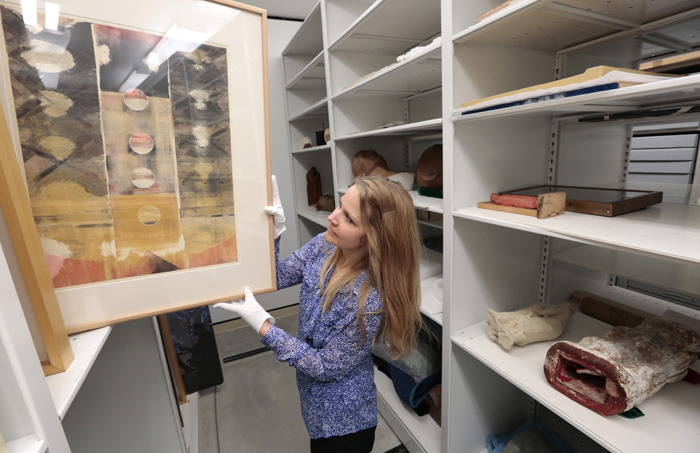 Space constraints make it impossible for University Museums to display its entire 40,000-piece collection. But a new online database called the Electronic Museum, or eMuseum for short, gives everyone an opportunity to peruse the whole collection or search for specific artworks by title, artist or manufacturer's name, medium, campus location or other criteria.
Launched last fall in conjunction with University Museums' 40th anniversary, eMuseum is an online educational tool that helps ISU students and faculty connect with art on campus. eMuseum is compatible with tablets and smartphones. In fact, as part of the project, University Museums purchased iPads for the Brunnier and Christian Petersen art museums to allow patrons to look up more information about a particular artwork or artist while browsing the exhibits.
"We hope that people use eMuseum as a reference tool, similar to how they search for books at a library," said Nancy Gebhart, educator of visual literacy and learning.
It's Gebhart's job to connect the museums' art collection to Iowa State's curriculum, creating opportunities for interdisciplinary learning. eMuseum helps her make those connections, and now faculty and students can as well.
"We think of University Museums' collection as a teaching opportunity," Gebhart said. "eMuseum makes it much easier for faculty to see what we have available."
Gebhart said she works with about 30 to 40 classes each semester, from English to engineering. With advance notice from a faculty member, she can pull pieces from storage and display them for a class.
"We are always trying to find ways to be academically supportive of the university," Gebhart said. "eMuseum helps us accomplish that goal."
Funded primarily through private gifts and a $19,000 Tech Starter grant from information technology services, the groundwork for eMuseum was laid in the fall of 2014. Student assistants were instrumental in the project, physically pulling pieces out of storage, photographing and measuring them, and writing detailed descriptions. There still is work to be done, and you might be able to help.
"There are some things we know nothing about," Gebhart said.
If you have information about a particular artwork on eMuseum, contact Allison Sheridan in University Museums.