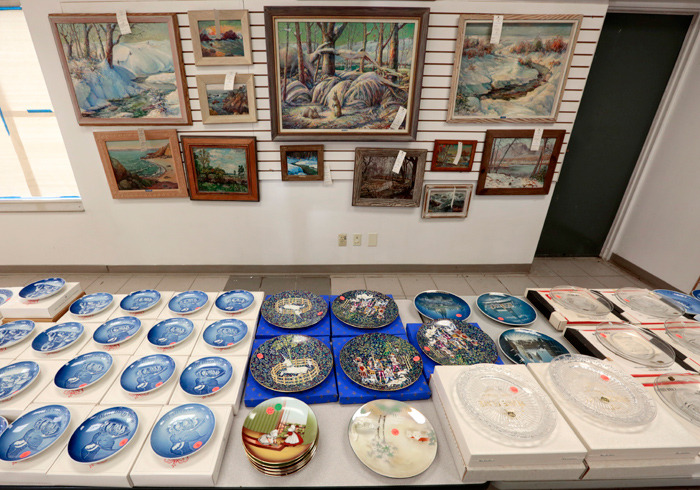 A Civil War-era sword, antique microscope cabinet, collector plates and glass, first edition books by an 18th century British explorer, paintings and sketches by Iowa-born artist Orr C. Fisher and hundreds of owls are among items that will line the tables at Iowa State's Art and Antique Sale Oct. 29-Nov. 1.
Proceeds of the four-day sale will be used to acquire, conserve and maintain works of art in the University Museums permanent collection.
The bulk of the sale items come from the Oregon home of Donna Howard, a 1952 home economics alumna, who bequeathed her estate to University Museums. Howard died in 2014. She was the niece of Orr C. Fisher, a prolific Depression-era painter and Iowa post office muralist who continued to create through the '60s, said museums director Lynette Pohlman.
Howard bought and sold many of her uncle's works, and more than 75 Fisher paintings and 200 drawings and cartoons from the estate will be part of the sale.
University Museums kept several of the Fisher paintings and drawings for its permanent collection. Another 25 paintings and 10 drawings were donated to museums, art centers and libraries in Corning, Greenfield, Winterset, Fisher's hometown of Mt. Ayr and to the State Historical Society of Iowa in Des Moines.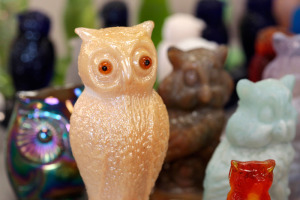 The birds
Howard collected and traded owls in all kinds of artistic media -- ceramics, glass, silver, stone, paint and fiber. Owl fanciers will find the birds adorning such items as boxes, lamps, toothpick holders, sheet music and a walking cane.
Other sale items
Several pieces of furniture for sale come from Iowa State units and offices. These include:
An antique microscope cabinet, a nine-door oak piece that's been sitting, pristine and dry, in the Physics Building basement for 24 years, according to central stores director Norm Hill
A Baker dining room set
An American empire-style, curved-glass curio cabinet, pier mirror, antique Bombé chest, vintage table and chairs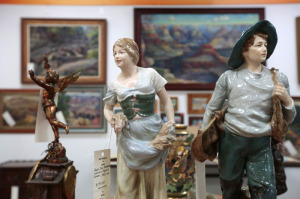 The sale also will include:
Various kinds of glass -- Vaseline, emerald Croesus pattern, milk and cranberry
Tea sets and china sets
Books, postcards, records and stamps
Lamps, figurines and containers
How much?
Most sale items range from $5 to $500. Among more expensive items are two first-edition book sets by James Cook. The explorer's hefty three-volume set, "A Voyage to the Pacific Ocean," 1784, is marked at $5,000, and the two-volume set, "A Voyage Towards the South Pole," 1777, at $2,800. An early 20th Century Rolleiflex Franke and Heidecke camera is priced at $1,000.
Sale time and place
The sale will take place at the new ISU Warehouse, 925 Airport Road, Ames, Iowa. (The warehouse is west of Munn Lumber Co. and north of the Ames Airport; follow the signs.) Hill invited football fans to drop by the sale prior to the Cyclones' homecoming game against Texas Oct. 31.
Sale hours are:
Thursday, Oct. 29, 4-8 p.m.
Friday, Oct. 30, 10 a.m.-4 p.m.
Saturday, Oct. 31, 8 a.m.-1 p.m.
Sunday, Nov. 1-4 p.m.