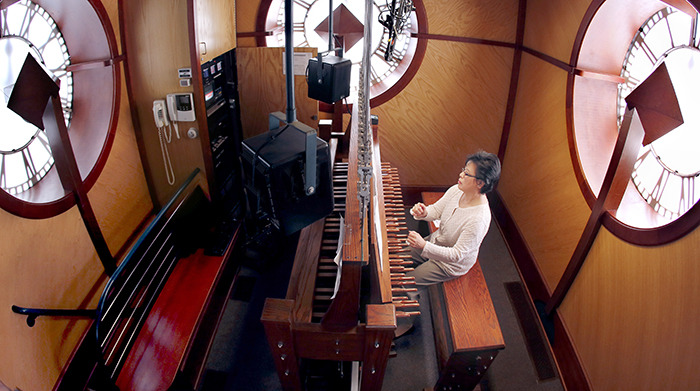 As part of the 2015 Midwest Regional Carillon Conference, this year's ISU carillon festival will kick off with a unique collaborative performance. Linked by a live-streaming system, musicians in three venues will perform together in real time, beginning at 5:30 p.m. Friday, Sept. 18.
"This festival-conference is exciting, especially with the technologies that we are able to incorporate," said ISU carillonneur Tin-Shi Tam. "This network performance will be the first of its kind for the carillon."
Tam will be headquartered in the campanile. She will perform two selections with the ISU brass quintet, which will be on stage in Music Hall, and an additional piece with the New World Symphony's percussion ensemble, located in Miami Beach, Florida. All performances will be broadcast to the audience in Tye Recital Hall (140 Music Hall) and online viewers. A 7:30 p.m. panel discussion will follow. Admission is free and open to the public.
The conference wraps up Saturday with a 2 p.m. carillon concert, featuring guest carillonneurs Julianne Vanden Wyngaard, Grand Valley State University, Allendale, Michigan; and George Gregory, Central Christian Church, San Antonio. Public tours of the campanile will be conducted after the performance.