Iowa State has earned its 10th and 11th LEED® certifications for two renovation projects in Curtiss Hall. The College of Agriculture and Life Sciences' student services mall, completed in July 2012 on the ground floor of the south wing; and Harl Commons, completed in September 2013 in what had been two basement levels beneath the auditorium, each achieved LEED Gold certification – second only to the platinum rating.
"LEED Gold certification makes the Curtiss Hall renovation even more special," said dean Wendy Wintersteen. "What's truly innovative is that these green-designed spaces are so inviting and welcoming.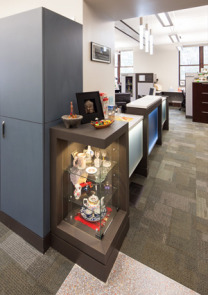 "They enhance our college's efforts to create community. They send a message to our students that we are committed to a sustainable future in energy and the environment, not only in what they are learning but also in where they are learning," she said.
LEED (Leadership in Energy and Environmental Design) is a voluntary program of the U.S. Green Building Council that measures environmentally sensitive building design, construction, operations and maintenance. LEED measures achievements in five categories and awards a credit total. Extra credits are awarded for exemplary performance in any of the five or for green priorities specific to a region.
These latest awards are the university's first in a LEED category for interior renovations in which only part(s) of a building are included in the project. Iowa State's first nine awards came in the new construction/major renovation category.
"This category is largely concerned with what we're putting back into the building since we're dealing with an established site," said Kerry Dixon, project manager with facilities planning and management and ISU's LEED-accredited professional. That includes everything from air handling systems to furnishings.
LEED projects in Iowa higher education
| | | |
| --- | --- | --- |
| | Registered* | Certified |
| Iowa State | 25 | 11 |
| Northern Iowa | 5 | 1 |
| U of Iowa | 10 | 4 |
| U of Iowa Hospitals and Clinics | 10 | 7 |
| Total | 50 | 23 |
*Registering a project with the U.S. Green Building Council shows intent to receive LEED certification, whether the application ultimately is successful or not. The figures include projects in design or construction phases.
ISU's LEED-certified projects (11)
Platinum: College of Design King Pavilion (2010), State Gym (2012)
Gold: Biorenewables Research Laboratory (2011), Hach Hall (2011), Small Animal Hospital at the Lloyd Veterinary Medicine Center (2013), Troxel Hall (2014), Hansen Agriculture Student Learning Center (2015), Curtiss Student Services Mall (2015), Curtiss Harl Commons (2015)
Silver: Morrill Hall (2008), Bergstrom Football Complex (2014)
In certification process: Sukup Hall, Elings Hall, Lagomarcino renovation for the School of Education
In construction: Marston Hall renovation, Buchanan 2
In design: Bessey Hall addition, biosciences advanced teaching and research building
Shared achievements
In some cases, the Curtiss Hall projects earned identical or very similar credits. These include:
Both projects use materials and products manufactured within 500 miles of campus (47 percent by total value for Harl Commons and 28 percent for the student services mall). For the first time at Iowa State, all of the office furniture purchased as part of the projects met this requirement; a more difficult hurdle to scale, Dixon said.
Building materials and products contain recycled material (24 percent of materials, by dollar value, for the student services mall, and 13 percent for Harl Commons).
All office appliances -- including large monitors, multifunction printers and refrigerators -- purchased for the spaces are Energy Star rated.
A majority of the construction waste generated was recycled rather than delivered to a landfill -- 98 percent for Harl Commons and 78 percent for the student services mall.
Paints, varnishes and flooring emit low levels of volatile organic compounds (VOCs) that could be harmful, improving the air quality for those who use those spaces.
The custodial team uses certified green cleaning solutions and products.
Both projects earned credits for the Curtiss Hall site's earth-friendly features, including:
Absence of an irrigation system, and a landscape plan that doesn't require one
Bus stops for three different routes are within blocks of the building
The site is within a half mile of community services such as restaurants, banks, shops, a post office and churches
Half of the building's non-roof surfaces will be shaded by landscaping within five years
Project-specific improvements
The two Curtiss spaces also excelled for project-specific design decisions. A few are highlighted.
Student services mall
All spaces within 15 feet of windows (and 70 percent of total installed lighting) feature daylight-responsive lighting controls; 86 percent of lighting is equipped with occupancy sensors.
Spaces are zoned for heating and cooling to respond to variables, for example, a temporary increase in occupancy or nearby windows' impact on air temperature.
The college opted to purchase wind energy to provide 50 percent of the mall's electricity for at least two years. Wind energy is part of ISU's diversified energy portfolio.
Harl Commons
Using LED light fixtures in the two-story ceiling and in task lighting reduced the wattage of all lighting by 62 percent. The LED bulbs also last longer, a maintenance consideration in the Harl space.
Low-flow sink faucets, toilets and urinals installed in the new restrooms and café reduce water use by 41 percent from state building code.
LEED scorecard: Curtiss Hall projects
| | | |
| --- | --- | --- |
| Category | Harl Commons | Student Services Mall |
| Sustainable site | 17 | 19 |
| Water efficiency | 11 | 0 |
| Energy/atmosphere | 15 | 22 |
| Materials | 6 | 6 |
| Indoor environmental quality | 7 | 10 |
| Extra credit: Innovation in design | 6 | 5 |
| Extra credit: Regional priorities | 2 | 2 |
| Total credits | 64 | 64 |
In 2008, Iowa State set the goal of achieving LEED certification for all of its building projects.