Fourteen feature films released between May 1 and Aug. 7 – but not yet available on DVD -- will come to campus in Cyclone Cinema's fall lineup.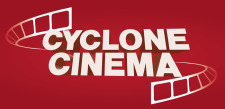 Sponsored by the Student Union Board, the film series is at home in the Carver Hall auditorium (room 101). With the exception of the opening fall break weekend, each movie has eight showings: 7 and 10 p.m. Thursday through Sunday evenings. Admission is free and the public is welcome.
For the second year, both Sunday screenings will include open captions to assist patrons with hearing loss or for whom English isn't their first language.
Yes, there's popcorn
The Cyclone Cinema concession stand this fall will offer butter and kettle popcorn ($2), bottled Coke products and water ($1) and boxed candy ($2).
The Cyclone Cinema fall films are:
Aug. 27-30, Avengers: Age of Ultron (rated PG-13), starring Robert Downey Jr., Chris Evans
Sept. 3-6, Pitch Perfect 2 (PG-13), Anna Kendrick, Rebel Wilson
Sept. 10-13, Spy (R), Melissa McCarthy, Rose Byrne
Sept. 17-20, Jurassic World (PG-13), Chris Pratt, Bryce Dallas Howard
Sept. 24-27, Inside Out (PG), animated, voices of Amy Poehler, Bill Hader
Oct. 1-4, Ted 2 (R), Mark Wahlberg, Amanda Seyfried
Oct. 8-11, Magic Mike XXL (R), Channing Tatum, Joe Manganiello
Oct. 15-18, Mad Max: Fury Road (R), Tom Hardy, Charlize Theron
Oct. 22-25, Trainwreck (R), Amy Schumer, Bill Hader
Oct. 29-Nov. 1, Minions (PG), animated, voices of Sandra Bullock, Jon Hamm
Nov. 5-8, Ant-Man (PG-13), Paul Rudd, Michael Douglas
Nov. 12-15, Mission Impossible: Rogue Nation (PG-13), Tom Cruise, Rebecca Ferguson
* Nov. 19-20, Southpaw (R), Jake Gyllenhaal, Rachel McAdams
Nov. 26-29, No film, Fall break
Dec. 3-6, Fantastic Four (PG-13), Miles Teller, Michael B. Jordan
*Thursday-Friday only due to fall break