Interior demolition work at Marston Hall, which began in December, will continue this summer and wrap up in September. Crews are removing three to four dump truck loads of brick and tile every day, a wheel barrow at a time, as load-bearing walls are replaced with steel columns and beams. All told, about 75 percent of the building's internal load-bearing walls will be removed with the goal of creating larger, more open spaces in the renovated Marston Hall, the administrative home of the College of Engineering.
Appropriately, the project currently is an engineering feat to behold. A strategically placed series of 17 shoring towers, extending nearly 70 feet from the roof trusses to below the original basement floor, temporarily are supporting the roof's weight. The rebuilding process started on the fourth floor and will progress down to street level. Project manager Kerry Dixon, facilities planning and management, said the team from Mortenson Construction has recorded nearly 35,000 hours without an injury.
By time, Dixon said 60 percent of the Marston renovation project will involve demolition, with the remaining 40 percent devoted to construction. Cost-wise, 30 percent of the $27.1 million price tag is in abatement and demolition contracts, she said, with the rest devoted to reconstructing and finishing the 60,000-square-foot building. Move-in remains on schedule for early May 2016.
Marston Hall first opened in 1903. The renovation will create several 80-seat classrooms and student services, visitor and student spaces on the first two floors. The college's administrative units will move to the top two floors. The project is being paid for by university and college funds (about two-thirds) and private gifts (about one-third).
Photo gallery on ISU's Facebook site.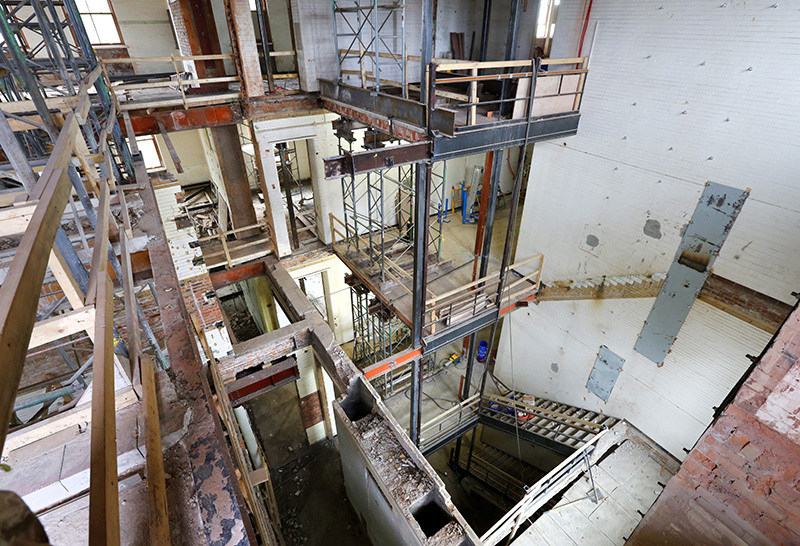 Related stories:
Demo work in Marston turns up a few treasures, Jan. 22, 2015
Interior demolition at Marston begins next month, Nov. 6, 2014
Marston tenants are starting to move, June 5, 2014