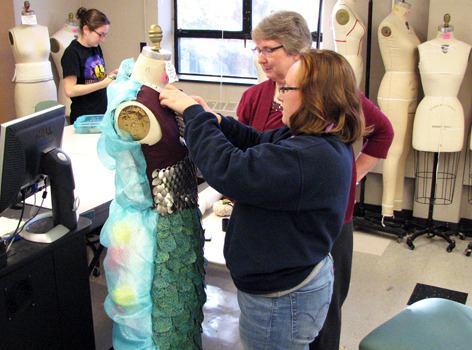 Seven apparel design students this fall faced a real-world challenge: Meet the deadline, stay on budget and keep the client happy. (And don't slack on your other classes.) Meeting nine hours a week for the first eight weeks of the semester – and putting in loads of hours at home -- the seven students each designed and produced a "nature-inspired" alien costume for Reiman Gardens. Collectively they feature leaves, wings, scales, blossoms, tails, antennae and leg sets exceeding two.
Guests at this weekend's Spirits in the Gardens will be treated to the fruits of that labor when models don the costumes to interact with children at the ninth annual pre-Halloween event. The costumes complement the gardens' 2014 space/science fiction theme, but needed to adhere to "alien" guidelines set by gardens staff that included:
Colorful
Inspired by real plants or animals
Friendly, not scary
Face and hands remain exposed (lest young children forget it's a costumed human)
The seven seamstresses also were tasked early on with recruiting a model for their costumes, individuals with both flexible schedules – to attend lots of fittings – and engaging personalities for Spirits in the Gardens.
The students and their costumes
Julie Anderson, senior, Jaded Layla
Jorden Charron, junior, Scaley Invasion
Hayley Hays, senior, Royal Damsel
Kerry Maas, junior, Flower From Far Out
Sarah Martin, junior, Icarina Exotica
Mackenzie Thacker, senior, Queen Beetle
Haley Wandro, junior, Alien Insect
Class project
As in 2011, the apparel, merchandising and design program's 300-level design seminar this fall was tailored to Reiman Gardens' request for theme-based costumes. Sharon Wirth, who co-teaches the seminar and runs the program's teaching laboratory, called it a "wonderful collaboration."
"This experience forces our students to fit their creativity within the parameters of a client's needs, to work with a real-world budget and to get the project done in eight weeks," Wirth said. "It's a big challenge for them, but Reiman Gardens is wonderful to work with."
While many of the projects narrowly exceeded the $200 budget, students said honoring the client's costume guidelines proved most challenging.
"Designing for kids required a new way of thinking," said senior Julie Anderson. "In the beginning, I had some really awesome ideas, but they would have been way too scary."
Her colleague, junior Haley Wandro, concurred.
"I'm more technical than creative, so the curveball for me was having to keep the face uncovered," Wandro said. Eventually, she settled on blue face paint and hair spray with her costume.
Showtime
Spirits in the Gardens will be held Saturday and Sunday, Oct. 25-26 (4-7 p.m.). Guests of all ages are encouraged to come in costume (but it isn't required). Activities include:
Trick-or-treating
Hawk and owl demonstration by students from the College of Veterinary Medicine's Wildlife Care Clinic
Storytelling with Jerri Heid, youth services manager at the Ames Public Library
Mask-making craft
Outdoor games such as bean bag toss and pumpkin broomball
Meet the garden aliens and the students who created them
Spirits in the Gardens is free for all youth under age 18; adults and seniors pay regular garden admission ($8 and $7, respectively). Garden admission is free for members and Iowa State students with valid ID card.