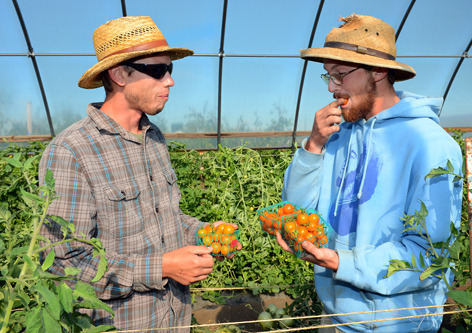 Faculty, staff and students are invited to purchase fruits and vegetables grown on the university's Horticulture Research Station near Gilbert.
A new year-round website will allow the ISU community to order fresh produce. The website was created during spring semester by students in Horticulture 465, Horticulture Enterprise Management: Marketing, as a project in their study of managing and operating fruit and vegetable enterprises for local markets.
"We have produce ready to sell now," said Megan Cannon, a May graduate in dietetics and nutritional sciences, summer intern at the hort station and one of the website developers.
Cabbage, broccoli, kohlrabi, thyme, cherry tomatoes, beets and several kale varieties are available for purchase now. In about a week, raspberries will be be available. In about two weeks, Legend tomatoes, Heirloom tomatoes and blackberries will be ready. A month from now, specialty melons also will be available.
Different seasons will mean different produce. The widest variety will be readily available during the spring and summer, but apples and root vegetables such as sweet potatoes will last longer into the fall and winter months. Students in Horticulture 465, hort station staff and members of the Student Organic Farm are growing the produce for this new project.
How it works
Produce availability is updated weekly on the website. Log in using your ISU net-ID and password to see the "produce for sale" site. Orders will be available for pickup on Fridays (11:30 a.m.-1:30 p.m.) in parking lot 43 (between Bessey and Horticulture halls). Payment, due at pickup, is by cash or check only.
The first produce delivery will be Friday, July 18.
About the project
The Horticulture 465 class developed a proposal for the website and presented the plan to Leopold Center for Sustainable Agriculture leaders, who agreed to pay for the site design and half of the salary and benefits for an intern manage it. The horticulture department agreed to fund the other half. The hort station acts as a supporting entity for the class and the website.
The 230-acre farm is located four miles north of Ames on county road E-23, east of U.S. Highway 69. According to superintendent Nick Howell, the farm hosts 85-100 projects annually, on everything from turf grass to fish to fruits and vegetables.