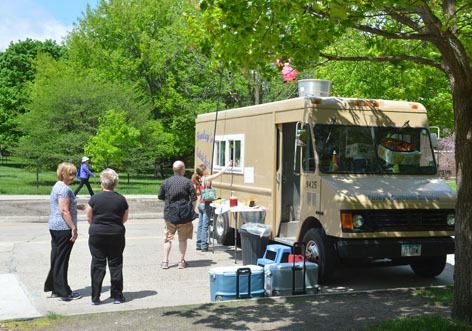 Campus diners have a new lunch option, via a mobile food truck that parks near the intersection of Stange Road and Osborn Drive.
Arlo Meyer, assistant vice president for business services, said it is a pilot project of sorts. The intent is to alleviate capacity issues faced by rising enrollment numbers and respond to increased demand, particularly over the noon hour. After months of discussion, a request for proposal (RFP) was initiated at the request of the Office of the Senior Vice President for Business and Finance, putting a truck on campus a few weeks ago.
"We've been talking about this for some time," Meyer said. "This is a trial both for ISU and the food vendor to see if it works well."
Unique menu items
The Elvis: Hamburger with peanut butter and crumbled bacon (grilled bananas are optional)
Blue Moon: Hamburger with blue cheese and bacon
Southwest Chicken: Mesquite smoked chicken breast with red cabbage and chipotle mayo
SW Iowa Dog: Bacon-wrapped hotdog, deep fried and covered with red cabbage and chipotle mayo
Finley's Curbside Beastro offers hot food items, such as burgers, smoked chicken sandwiches, grilled cheese, regular or deep-fried hot dogs, and fries. The Huxley-based business, operated by Tim Little, also offers specialty items (like the "hippy burger," a fried portabella mushroom cap with blue cheese and pesto sauce), weekly/daily features (for example, a pulled pork sandwich with potato salad), drinks, chips and fruit.
It is open weekdays, from 11 a.m. to 2 p.m. Diners can pay with cash or credit cards, but the truck is unable to accept CyCash. Sandwich prices range from $3 to $6; drinks are $1. The food truck began operation a few weeks ago, and will serve from the same location into the fall.
"We built in some flexibility to the contract," said Cory Harms, associate director of purchasing. "He'll be operating as long as the weather is cooperating."
Harms said the university's RFP had an option for two food truck locations (the other was near the Marston water tower). Other food vendors expressed interest, but did not submit a bid. He said the university receives a small percentage of revenue, used to cover parking and cleanup costs.
"This is the first time we've done something like this on campus," Harms said. "We'll see how it goes. We may bid another location next year if this one is successful."