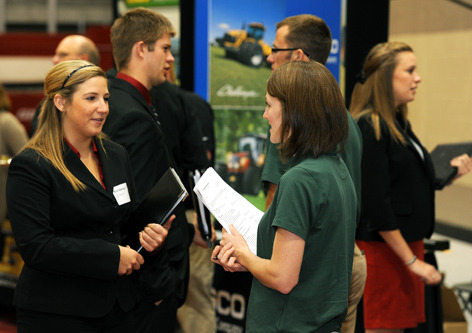 Senior management major Kira Swanson (left) speaks with a recruiter during the fall Ag Career Day Oct. 16 in the Lied Recreation Center. Already the largest agricultural job recruitment event in the country, it broke its own record this fall, with 208 companies in attendance (up from 175 a year ago). Nearly 2,000 students participated and an estimated 600-plus campus interviews were scheduled for the following day. The College of Agriculture and Life Sciences-sponsored event was not the only career event held for Iowa State students this fall. Two others were held last month.
The Engineering Career Fair on Sept. 25 attracted 287 companies (another 20 were on a waiting list) and drew nearly 5,000 Iowa State students to Hilton Coliseum and the Scheman Building. Recruiters completed more than 1,100 interviews the week of the fair.
The Business, Industry and Technology Career Fair on Sept. 26 drew 3,053 job and internship seekers, including large student numbers from the host colleges of Business (1,826), Human Sciences (509) and Liberal Arts and Sciences (554). They interacted with 168 companies and organizations – an increase of 22 percent over fall 2011 – and more than 700 interviews were conducted the following day.