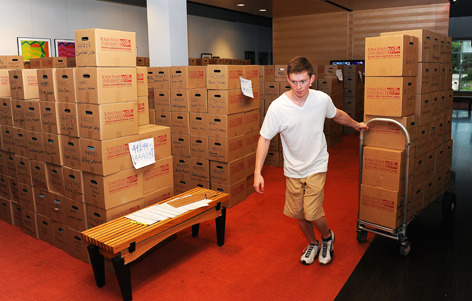 A small, well-trained army (27 students and four bookstore employees) is putting in 10-hour workdays in the University Book Store's textbook section Aug. 6-14 to tackle a not-small assignment: Pull, box and assess payment on textbook orders for nearly 5,900 students. That's a noticeable increase over last fall, when about 4,300 students signed up for the free service, said Heather Dean, the bookstore's CourseWorks specialist, who also coordinates pre-orders each semester. She attributes at least some of the increase to students' ability, for the first time this year, to charge their textbook packages to their U-Bills. Nearly 75 percent of this month's orders are going on U-Bills.
Over the first few days, Dean's army is packaging, processing and storing (upstairs in the Multicultural Center) 750 to 800 orders, on average, a day. From Aug. 15-18, this same team will hand out individual boxes to students from the front of the Multicultural Center. The process has outgrown other locations in the MU over the years, including the Gold, Cardinal and Campanile rooms.
"It's about making the experience better for our students," Dean said, noting it also eases -- slightly-- the space crunch in the bookstore during the first week of classes.