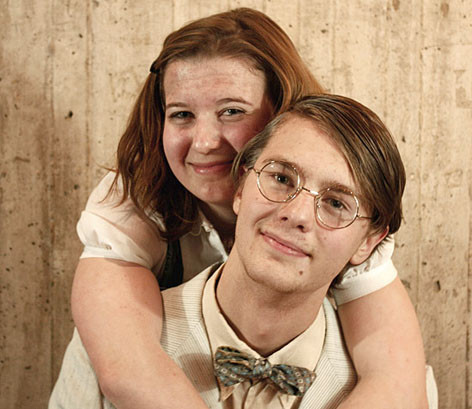 ISU Theatre will raise the curtain at Fisher Theater Feb. 24, opening a two-weekend run of Harper Lee's Pulitzer Prize-winning tale, To Kill a Mockingbird. Scout, Jem and Atticus Finch star in Christopher Sergel's stage adaptation of the American classic, set in a small Alabama town during the Depression.
Eight-year-old Scout (junior Kiah Kayser) and her brother Jem (sophomore Brent LeBlanc) join up with their friend Dill (Ben Teske) to find out more about their mysterious shut-in neighbor Boo Radley (sophomore Austin Schinke). Atticus (sophomore Taylor Sklenar), the widowed father of Scout and Jem, scolds the children for making Boo a character in unlikely -- and at times, unkind -- stories. He urges them to put themselves in another's shoes before making judgments.
Meanwhile, the town is being torn apart by the racially charged trial of Tom Robinson (sophomore Andre Johnson Jr.), a black man who has been accused of accosting a white woman. Atticus agrees to serve as Robinson's lawyer. His steadfast defense of the clearly innocent man, and the resolve he shows in spite of threats to himself and his family, teach Scout and Jem a life lesson of character.
"To Kill a Mockingbird is a book that I have loved for many decades and I'm so pleased that we are able to bring these wonderful characters and beautiful story to life," said Jane Cox, director of the show and ISU Theatre program.
Tickets for To Kill a Mockingbird are $16 ($14 seniors, $8 students), and available at the Stephens ticket office or through Ticketmaster. Show times are 7:30 p.m. on Fridays and Saturdays (Feb. 24-25, March 2-3), and 2 p.m. on Sundays (Feb. 26, March 4).