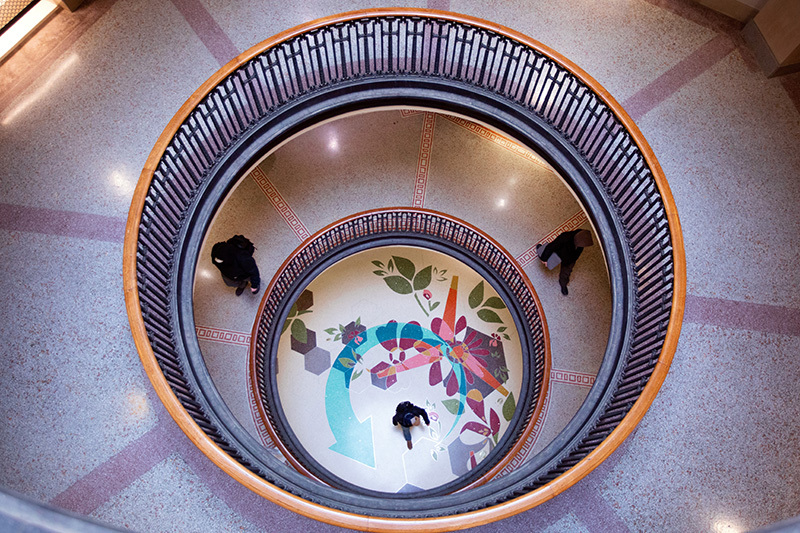 Groundhog Day week brings joy to some; others need to hit March 1 to believe winter will release its grip. For employees in either camp, the Inside staff put together some no-cost to low-cost campus suggestions for solutions to the winter doldrums.
Learn something. University Museums' free art walks, featuring the Art on Campus collection, are organized this semester by material (ceramics or wood, for example) and led by staff members and docents. Through July, they begin at noon on the last Wednesday of the month.
Pay less. 50% discounts on mindfulness electronic subscriptions or activity trackers are some of the current finds in Blue Cross 365 discounts, available to benefits-eligible employees.
Get outdoors. You don't need a membership to enjoy overnight rentals of snowshoes ($9), a cross-country ski package ($10) or a headlamp ($4) from ISU recreation services. The "weekend" rate (any four days) is charged at double the daily rate. The outdoor rec counter in State Gym's lower level (opposite the climbing wall) is open 2-7 p.m. Monday through Friday; complete the online request form, and pay before you take your equipment.
Check out books for your kids (or you). The Ames Public Library's bookmobile parks north of the Hub on Thursdays, 11 a.m.-1 p.m.
Kick winter in the shins. Head to the Hub for a gelato or sorbet by ISU Dining (choose from eight flavors daily), or visit the ISU Creamery, 2953 Food Sciences Building, for a scoop or three. Six ice cream flavors rotate daily from the Creamery's 19 flavors.
Enjoy a novelty. ISU carillonneur and music faculty member Tin-shi Tam performs every weekday at 11:50 a.m. And remember, she takes requests. Try to select pieces suitable for a carillon, and know Tam typically prepares the arrangement herself (this could take a week or two). She notifies requesters prior to the performance date. In the meantime, enjoy Lady Gaga's "Bad Romance" on the ISU carillon from the summer of 2010.
Walk. Strolls for Well-Being added three strolls for winter on themes of journey, possibility and gratitude. Each features six pauses across campus, indoors and out, such as the Memorial Union north entrance, Morrill Hall and Kildee Hall. Strolls can range from 30 to five minutes, depending on your schedule. If time is too tight, try some pause where you are strategies.
Walk indoors. Parks Library has a self-guided tour of the building's art and architecture. Or, just walk. Smart librarians have calculated that one mile equals six laps around the second floor (including the tiers) or five laps around the third floor (without the tiers).
Talk about it. Employee and Family Resources counselor Joe Klipping is on campus Wednesdays (8 a.m.-5 p.m.) for counseling sessions with benefits-eligible faculty and staff (up to six sessions/year are free). Klipping can assist with life issues such as depression, anxiety, stress, grief, family and marital/couple relationships, and substance abuse concerns. Appointments are required (virtual sessions are available, too); call 800-327-4692 to schedule an appointment.
Be a campus philanthropist. Improve the lives of our students by making a cash or merchandise donation to the SHOP food pantry, 1306 Beyer.
Challenge a coworker. Check out a chess set from Parks Library's main desk. You have 24 hours to complete your game.
Try the rec. With a $10 day pass, faculty and staff can explore recreation services' facilities and fitness classes, from yoga to weightlifting. If you prefer to work out at home, subscribe to fitness on demand for a semester; there are rates for members and nonmembers.