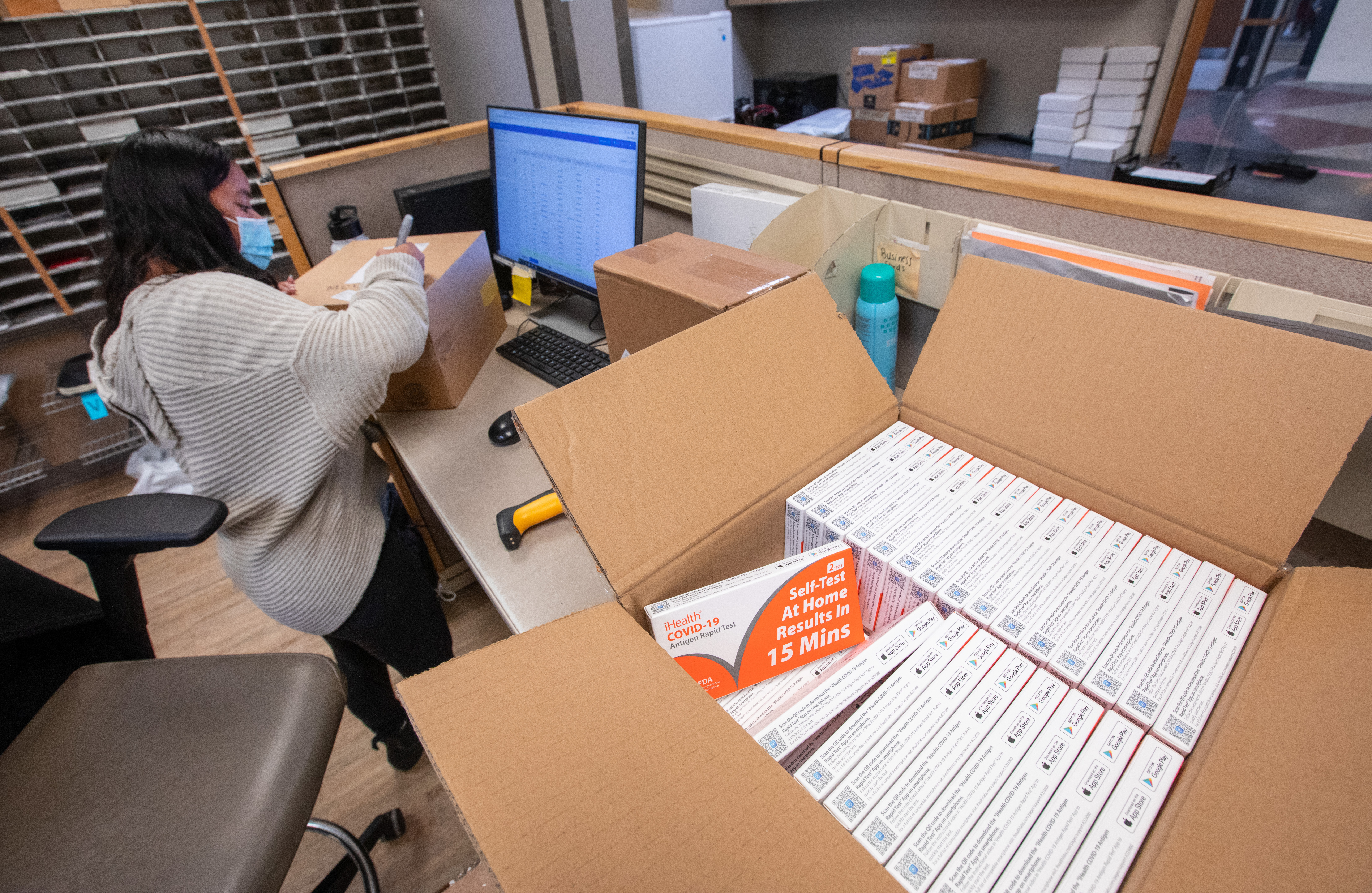 Faculty and staff seeking COVID-19 testing as the omicron wave continues in Iowa have numerous options, including multiple ways to get a free kit to conduct a self-test that provides rapid results.
In-person pickup
Starting last week, employees and students looking to determine if their symptoms are due to a COVID-19 infection can pick up an antigen-based, at-home test at five campus sites:
Maple Willow Larch hall desk (8 a.m.-6 p.m. weekdays, weekends 1-5 p.m.)
Memorial Union information desk (7 a.m.-10 p.m. daily, except 11 a.m. opening Sunday)
Thielen Student Health Center front desk (8 a.m.-5 p.m. weekdays, except 9 a.m. opening Wednesday)
Union Drive Community Center mailroom (8 a.m.-6 p.m. weekdays, Saturday 1-5 p.m.)
Vet Med room 2270 (8 a.m.-5 p.m. weekdays)
At the pharmacy
New federal regulations effective Jan. 15 require health insurance plans, including Iowa State's self-funded employee health insurance, to cover the cost of up to eight rapid antigen tests per rolling 30-day period for each person covered by the plan.
To use this option without making an upfront purchase, select a COVID-19 test at a participating pharmacy and take it to the pharmacy counter (as opposed to the general checkout). Present the Express Scripts card issued with the prescription drug plan included in ISU health coverage. There should be no copay for purchasing a test starting around Feb. 2.
If a copay is charged at a participating pharmacy, submit a claim to Express Scripts for reimbursement. Instructions for claiming reimbursement are online. Manual claims can be submitted via online or paper form. The same process can be used to request reimbursement for the cost of any rapid antigen test purchased on or after Jan. 15, including those bought online. A receipt will be required, and reimbursement is capped at $12 per test ($24 for a box that includes two tests).
By mail
The federal government will send up to four rapid antigen tests to every U.S. household. Request the tests online via the U.S. Postal Service.
Lab tests, too
While the nasal swab at-home antigen tests are effective at detecting COVID-19 in people with symptoms, even more accurate PCR tests also are available.
Test Iowa offers a free saliva-based COVID-19 PCR test. Self-collected samples are submitted to the State Hygienic Laboratory via UPS, and results are available by email within 72 hours of the lab receiving the sample. Kits are available at the same campus locations where rapid tests are distributed.
Hy-Vee continues to operate a drive-thru testing clinic in Lot F, west of Stephens Auditorium, weekdays 9 a.m.-1 p.m., except Wednesdays. Schedule a required appointment online. Lab PCR tests are free and results are available within three to five days. Rapid PCR tests cost $119.
Out-of-pocket costs for COVID testing, including at-home tests, are a medical expense that is eligible for reimbursement by health flexible spending accounts.
Positive test?
See the Moving Forward's website testing page for guidance on isolation and quarantine.