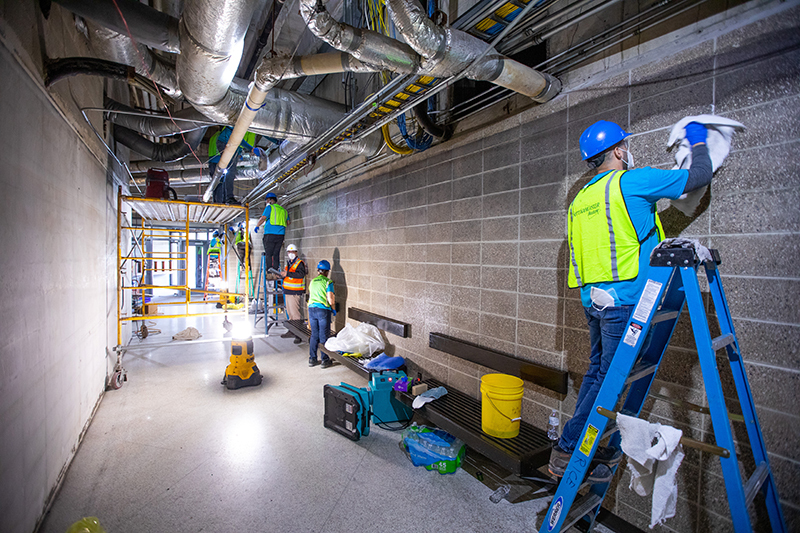 There's no good time to have a fire empty out a six-story academic building for months. But if it's going to happen, this year probably is the best timing imaginable.
The increased reliance on remote work and instruction during the pandemic -- along with a few helping hands -- made the Feb. 22 fire in Ross Hall relatively easy to manage for the English, political science and history departments that call the building home, department chairs said.
No one was injured in the fire, which began in a first-floor custodial closet about 6 a.m. But due to extensive smoke from the fire, the building is closed for a cleanup expected to take until at least early summer. No classes will be held in Ross Hall until fall, and June is the earliest that faculty and staff could be back.
Under normal conditions, that would be a major disruption. Ross Hall has about 20 classrooms and teaching labs in the basement and first floor, with English office space on floors two through four, political science offices on the fifth floor and history offices on the sixth floor. The three departments combined have more than 300 faculty and staff. But most employees already were working remotely at least part-time, and everyone has recent experience with it.
"It's been more of an inconvenience than anything else," said Simon Cordery, history department chair and the Ross Hall building supervisor.
No workplace worries
The classes that had been meeting in-person were moved to other buildings, which would have been a bigger challenge any other year. There are several options for the handful of faculty and staff who need temporary campus workspace, mostly for student office hours. Department chairs in economics (Heady Hall) and world languages and cultures (Pearson Hall) offered up some space, and the college's offices in Catt Hall and the English department suite on the third floor of Curtiss Hall also are possible landing spots. Mail for all three Ross Hall departments is being rerouted to nearby Heady Hall.
"We've been very fortunate to have colleagues who have leapt to the fore to offer their facilities to us," Cordery said.
Dedicated space isn't necessarily a requirement, thanks to reduced campus foot traffic. Political science department chair Mack Shelley is working primarily in two appropriately named small rooms off the Memorial Union food court, alternating as needed.
"I've been doing Nook or Cranny the last couple weeks, depending on what's been available," he said.
Office cleaning planned
Being the largest department in the building and occupying the floors closest to the fire, English is the most affected of the three departments. Chair Volker Hegelheimer said two research projects are delayed temporarily. One faculty member worked entirely from a computer in a Ross Hall office, but electronics in the building are out of commission for several weeks for cleaning.
"There's definitely some impact," said Hegelheimer, who noted that associate chair for operations Matthew Sivils has been essential in handling the department's response.
Still, a similar fire in a different building could have presented more complications. The Ross Hall chairs met with the department chairs who navigated through the Sweeny Hall fire in 2014 and found that water damage from the sprinkler system was one of the biggest issues following that fire. In Ross Hall, there is no sprinkler system, which left office contents unscathed.
Though spared a soaking, books and other items in many offices are covered with soot. ServiceMaster crews restoring the building will go room-by-room, cleaning all personal effects. Faculty and staff should remove anything they don't want cleaned or that they need immediately.
"We advise them not to linger, in part because the fire alarm got destroyed in the fire," Hegelheimer said.
All three chairs said faculty and staff have been flexible and resilient in the wake of the fire, though it's yet another wrinkle in what's been an eventful 12 months.
"I kind of figure a plague of locusts is next on the list. Maybe an earthquake would be amusing? You just have to roll with the punches," Shelley said.