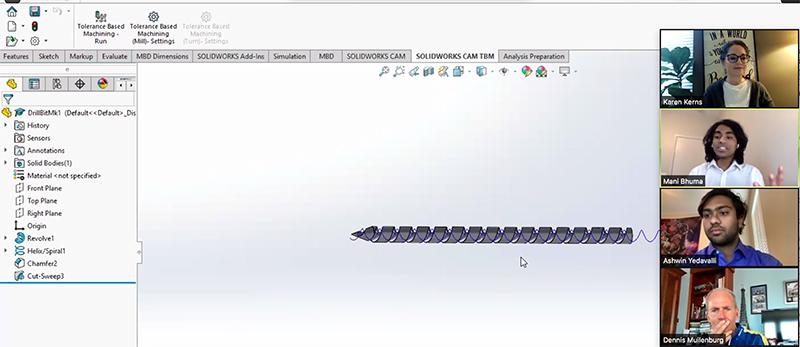 Brenner Stickney, a junior in aerospace engineering, is a regular at Iowa State innovation programs such as the weekly Flagship Friday forums. He's noticed a running theme in the presentations.
"The person who did something great never expected that they would do something great," he said. "They didn't know what they were going to do. They just went with it and pushed it, and it ended up being great."
It's an attitude Stickney is hoping to emulate. He's among more than 60 students learning to get in "go" mode in the Student Innovation Fellows Corps, which builds on the array of opportunities in innovation and entrepreneurship at Iowa State -- adding guidance from a mostly volunteer group of faculty, staff and business leaders -- to instigate students to take on a big challenge of their own creation.
The fellows program launched this fall along with the forums, workshops and competitions offered as part of President Wendy Wintersteen's innovation and entrepreneurship initiative. It ties together a wide variety of ISU innovation programs, encouraging students to use the skills and mentality they've developed to cut a self-designed path, said entrepreneur in residence Karen Kerns, who heads the fellows corps and the innovation programming that began last fall.
"Students were doing a lot of these things in the past, but they saw those experiences as a bunch of transactions. They didn't see them as a pattern of behavior, a way of thinking about the world," she said. "We are teaching them to own and make a product of their education. They're better using their college experiences, and they're better using university resources."
How it's structured
Innovation fellows progress through three "relays" to complete the program. The first relay is about mindset and requires attendance at least six Flagship Friday or Short Circuit programs, four fellowship trainings on specific skills and four coaching sessions with experts, either ISU faculty and staff who have volunteered to work with fellows or industry leaders recruited by Kerns. Including an orientation session, held monthly as applications for new fellows are accepted on a rolling basis, the mindset relay covers at least 24 hours of instruction.
The second relay requires at least 120 hours of experiences, which could include coursework in entrepreneurship, capstone projects, innovation-based extracurriculars, competitions, college-based programs such as those in the colleges of Liberal Arts and Sciences and Agriculture and Life Sciences, multi-week circuit programs or the CYstarters student accelerator, among others.
The third relay is the big challenge, a deliberately open-ended endeavor which can be an individual or group project, creating or building a business, developing an innovative practice or proposal, or even the creative component of a thesis. Students submit their challenge plans to Kerns, who connects them with relevant industry leaders or ISU experts for mentoring. The challenge projects must take at least 200 hours of documented work.
Fellows who meet the minimum requirements are awarded a cardinal pin, while those with additional hours can earn a gold pin. Students who don't complete a challenge but satisfy the first two relays receive a certificate. Seven graduating students will be recognized for their fellowship achievement in an April 23 ceremony, including five at the gold level.
The relays don't have to be sequential, Kerns said. While the coaching sessions in the mindset relay are often used to help identify a challenge, students with a set plan can hit the ground running, she said.
"It's nonlinear. You can literally be working on your big project while you go through your first six sessions or while you're taking courses," she said. "They need to have an idea that's worthy of the time of the innovator we would pair them with, but you can be 18 years old. You don't have to wait, if you're ready."
Booming business
Owen Cline, a senior in industrial technology, was a fellow who joined the program with a concrete agenda: grow Cline Design Creations, his metal sign-making business. He makes the signs in a machine shed at his parents' home in Brooklyn, Iowa, using a computer-controlled plasma table that cuts metal with superheated air.
Cline had been selling the signs since he was a teenager but expanded his business to online sales in fall 2019. He did about $200 per month in sales on Etsy, at first. Thanks to a boost in his marketing, business exploded in late 2020. He racked up $170,000 in sales for the year and had to hire his younger sister to keep up with holiday orders.
"I'm not worried about tuition, I'll say that much. And my sister doesn't have to worry about it, either," he said.
His mentoring sessions with Kerns guided him through the growth, keeping him focused on future considerations such as expanding into a new building and promoting the more profitable direct sales from his website. Working with her and others helped put him in a position to work full-time on building his business after he graduates in May.
"They ask the tough questions and really make you flesh out your value proposition," he said.
Honing an idea
Kerns said she got the idea to start the fellows corps after Mani Bhuma, a senior in aerospace engineering, told her that while he had learned technical excellence at Iowa State, he needed to learn how to think and how to behave like an innovator. The program has far exceeded his expectations.
"It's everything that you could expect and more," he said.
For his big challenge, Bhuma is on a team working on space mining. Members meet every Saturday to build computer models of technology they're designing to mine asteroids for ice, minerals and soil. Mining extraterrestrial materials for use in space avoids the cost of launching those materials from Earth, which costs about $4,400 per pound.
"Turning ice into drinkable water would be crucial," said team member Ashwin Yedavalli, a senior in mechanical engineering.
Their professional practice coach is former Boeing CEO and Iowa State innovator in residence Dennis Muilenburg, who holds multi-week training sessions for the program and is individually coaching more than a dozen fellows. In his coaching role, Muilenburg said he looks to connect dots for students as they hone their ideas. For example, he helped the space mining team members zero in on the mechanisms used for drilling to develop their broad interest into a business plan.
"The water idea is quite brilliant," he said. "If you can find ice in space on an asteroid and bring it from low gravity to low gravity, that's a pretty cool solution."
Muilenburg said he loves the audacity of the team's plan, the spirit it takes to attempt it and what the students will figure out along the way.
"Learning to have a big idea and then put the details together around it to turn that idea into a reality, working through the steps, is a process that's going to be valuable in your life," he said.
Listening to the buzz
About a dozen business leaders and another dozen faculty and staff are volunteering to coach fellows. The challenge team Stickney works with has two faculty coaches and is exploring how to automate existing technology to detect the sounds of insects. Currently, entomologists studying insect populations set traps to catch specimens, which is brutal and, for endangered insects, counterproductive, Stickney said.
"The more tests done on the rusty patched bumble bee, the more they're killed," he said.
Recording the sounds emanating from insects and using machine learning to process the data could allow a live feed showing where insects are, which would have numerous applications.
The idea was suggested to Stickney by entomology professor Matt O'Neal. Aerospace engineering department chair Alric Rothmayer is on board to help connect the team with aerospace engineering faculty and resources, potentially including the department's anechoic chamber, which would be a good place to test the software.
O'Neal said he initially got involved in innovation programs a couple months ago, and it's an interest that's fed on itself, in part because of the connections he gets to forge with students and faculty he wouldn't otherwise meet.
"I would not have had this meaningful interaction with engineers if not for Karen and the innovation program. It's unfortunate, but disciplines get siloed and colleges get siloed. This is an awesome opportunity to cross those silos," he said.