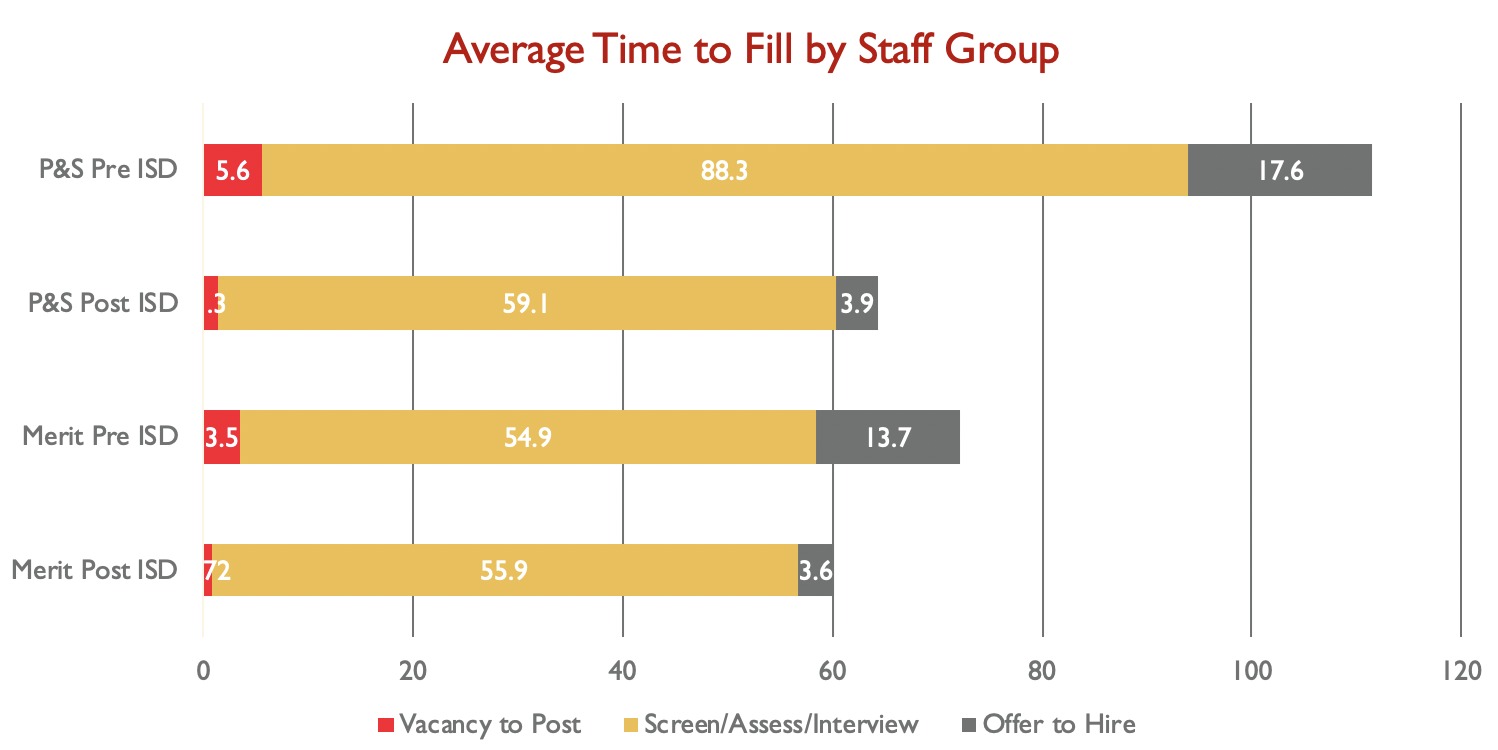 A job search that drags on longer than needed is a pain for all involved. It's draining for hiring managers, a strain on the current staff and off-putting for candidates.
All of which has been less of a problem at Iowa State since mid-2019, when a team of staff recruiting specialists was created as part of the launch of Workday and service delivery teams. In fiscal year 2020, which ended June 30, the average time it took to fill a P&S job fell from 112 days to 63 days. Time-to-fill for merit jobs dropped from 72 days to 60 days.
A quicker search makes it easier to hire quality applicants, said Becky Etnier, talent acquisition manager for university human resources (UHR). Strong candidates may be in the running for other positions and unwilling to wait on a pending search. Regardless, applicants consider their interactions with a potential employer before accepting an offer. In a survey by CareerArc, Etnier said, 63% of job seekers said they would likely reject an offer from an employer if the hiring process was poor, and 72% would tell others about it.
Reducing the days a position stays vacant also has significant benefits for current employees who have to take on more and hiring managers who have to find time for a search while already short-staffed, said Kristi Darr, vice president for UHR.
"This model delivers service and support to all involved. We are truly appreciative of the hiring managers who trusted us to provide this new service. Their feedback has been so valuable as we continue to work to improve the process," Darr said.
Staff recruiting team
Members of the staff recruiting team and the service team or role they serve:
Clayton Byrd (Junior staff recruiting specialist)
Jeri Derrig (Aspen, Fir, Redwood)
Betsy Happe (Pine, Spruce)
Lindsay Moeller (Hickory)
Luisa Orticelli Pinto (Birch, Dogwood, Juniper)
Teresa Rummer (Sycamore)
Factors in moving faster
In a presentation to the P&S Council at its Nov. 5 meeting, Etnier credited the substantial reduction in staff hiring times to a couple of main factors.
One was a policy change adopted at same time as the July 1, 2019, rollout of Workday, service teams and staff recruiting specialists: The minimum length of a job posting for a P&S job, previously either 15 or 30 days, was shortened to seven days. Etnier said the majority of P&S jobs post for the seven-day minimum. Merit system rules require posting jobs for at least 10 days.
"The faster we can go through the process, the more likely we are to keep a candidate engaged," she said.
Having the recruiting team conduct screening interviews of eligible candidates by phone on a rolling basis as they apply also contributed to improved hiring turnarounds, said Etnier, who oversees the team of five staff recruiting specialists and a recruiting coordinator. That streamlines the search for managers and helped cut the screening, interviewing and assessment portion of an average P&S hire from 88 days to 54 days.
How it works
When a staff position opens up, the hiring manager's first stop is a workforce planning conversation with an HR partner or coordinator, Etnier said. That covers the need, purpose and nature of the position, which leads to identifying an appropriate job profile.
Next comes an intake meeting with a recruiting specialist looking for in-depth information about the position, such as the day-to-day responsibilities, what success looks like in the role and the supervisory style of the hiring manager.
"These planning meetings set the entire recruitment process up for success, so when recruiting specialists talk to candidates, they have a good grounding about the job itself," Etnier said.
In the intake meeting, the manager and recruiting specialist discuss strategies for attracting a strong, diverse field of candidates and how the hiring process will work. Supervisors can be as involved as they'd like, but the best practice is to have a recruiter contact eligible candidates for short screening interviews. Those calls provide a chance for both parties to ask questions and, when conducted as applications are received, are key to a quick job search and engaged candidates.
From there, a recruiting specialist can provide the manager with a pool of possible finalists and help develop interview and assessment plans. After a supervisor decides who to formally interview and hire, a recruiting specialist can consult and conduct offer negotiations and support new-hire onboarding. The full-cycle service has helped reduce the need for search consultants and committees, though involving current employees in interviews and assessment is still recommended.
"It's a much more focused utilization of people to help make hiring decisions," associate vice president for human resources services and strategy Dwaine Heppler said of using interview panels instead of search committees.
What's next
Since the summer 2019 go-live, several Workday updates have refined how the platform handles job applications. Candidates can save and review applications before and after submitting, for instance -- a capability that wasn't available at first.
An update effective Nov. 2 allows job postings to close for guaranteed consideration at the end of the day listed as the deadline, instead of the 12:01 a.m. closing time that was the only option before. Having postings close at the start of the day listed as the deadline was a frequently noted concern by managers and candidates.
Also beginning Nov. 2, P&S and merit hiring managers and hired candidates will be asked to complete a post-search survey to find areas for improvements, Etnier said.
"We've got the bar set pretty high, but we need to continue to make enhancements and improve the process," she said.
Etnier said the recruiting team also is looking at making the staff employment application process more accessible on mobile devices. That includes more concise job postings and limited supplemental questionnaires, relying on phone screenings to collect information previously submitted with each application. Those adjustments would help the university grow its recruiting footprint on social media, another future goal.
"That's really where candidates are today," she said.