If there was a way to measure flavor per square foot, that taste density metric would be up sharply this fall in the northeast corner of the Memorial Union food court. In a slot on the food court's perimeter last occupied by a self-serve cooler for soda and grab-and-go items, a new ISU Dining restaurant serves poke, a Hawaiian dish featuring raw fish tossed with seasonings.
Pono Poké, which opened the first week of the fall semester, sells poke-style bowls and burritos with a protein choice that includes two raw fish options -- soy-marinated ahi tuna and sesame-marinated salmon – as well as citrus-poached shrimp, ginger-braised tofu, crab salad and miso-marinated beef tenderloin. Tea-braised chicken will join the menu in a couple of weeks. Bowls come with a choice of white sushi rice, a multigrain brown rice mix or cabbage. Burritos are made with a flour tortilla, soy paper or nori seaweed wrap. Customers can personalize their meal with five sauces, seven toss-ins and 16 toppings.
The first word in the name is Hawaiian and roughly translates as "righteousness." Poke is pronounced poh-kay. It quickly has become a food court top seller, despite the pandemic's reduced overall traffic, said ISU Dining associate director Cheryl Lounsberry. It draws fans of fish and Asian food, plus those looking for a healthy and surprising lunch option.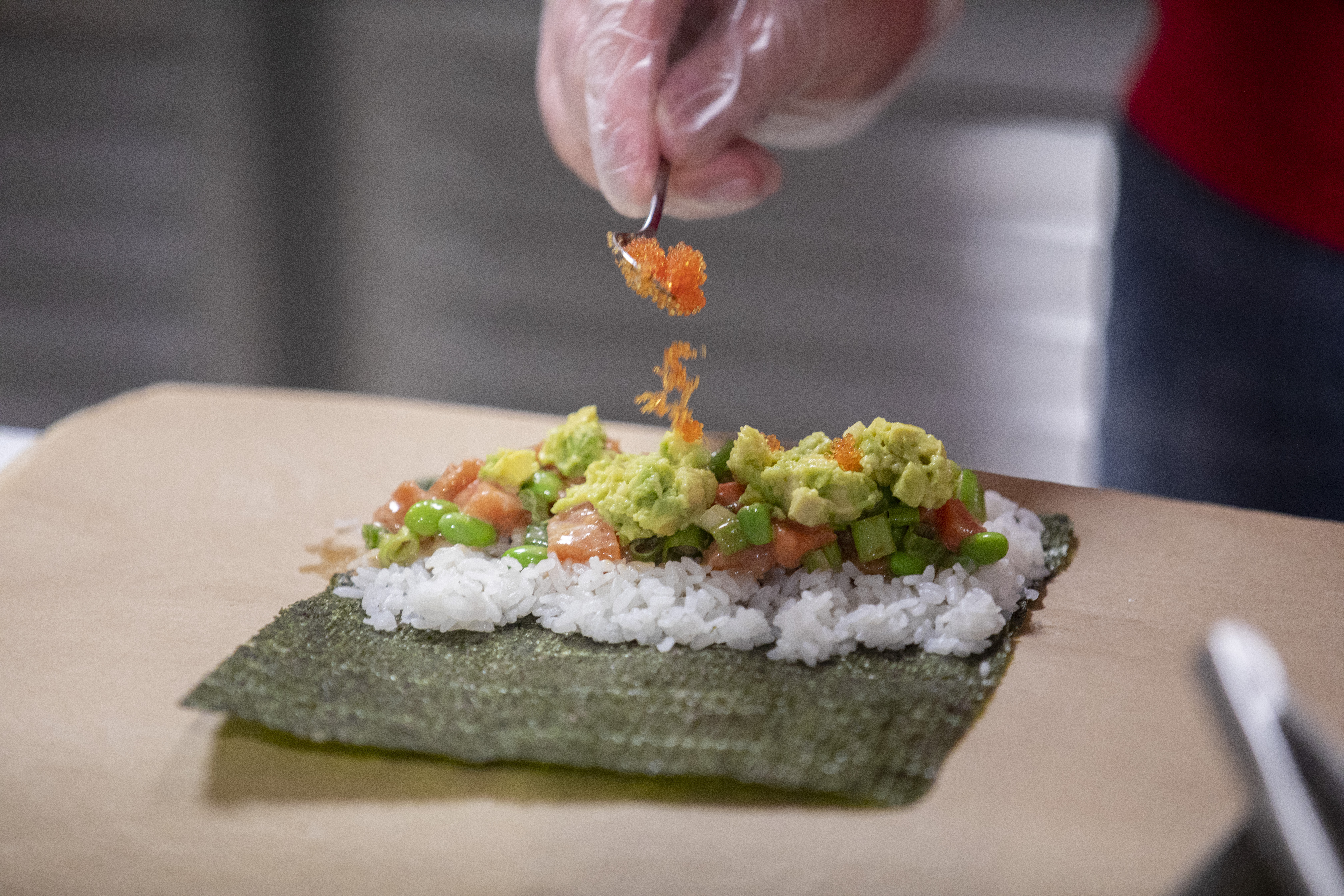 "When you think of college dining, you don't think of poke," she said.
Aja Porter may be one of Pono Poké's biggest fans. On a recent Friday, she noted she'd eaten poke for lunch every day that week, a common occurrence. She appreciates the portion sizes and the quality of the ingredients. She said the salmon and tuna compare to what she'd expect in a high-end restaurant.
"You can taste how fresh everything is," said Porter, a catering sales representative for ISU Dining.
Sourcing fish
ISU Dining research and development chef Nolan Green said the salmon is flown in from Norway and processed here in a deep freezer. The tuna comes from a supplier in Minneapolis already "super frozen," meaning it's kept at 20 degrees below or colder. That's so cold that a wet towel placed on the tuna immediately freezes, he said.
It takes specific methods to thaw fish to serve raw safely while maintaining optimum texture, and training for student staff working at Pono Poké is much more extensive than for other ISU Dining locales. Green provides much of that training, applying what he learned working at his uncle's teppanyaki restaurant in San Diego. He grew up in California and Hawaii and discovered poke early in life on the island, when his father would buy some at the grocery store as a weekend treat.
That sparked Green's lifelong appreciation of the traditional Hawaiian dish, which has become more popular in the mainland U.S. in the past decade. He pitched a poke concept for ISU Dining two years ago.
Perfect spot for poke
That made poke a natural pick with some planning already complete when the removal of the grab-and-go coolers left an open spot in the food court.
"We thought, 'What's the best thing we can do without too much cooking or too much prep?' That's kind of where it branched off of," Green said. "It was very quick. There was a lot of work in a short amount of time to get it up and running."
It took about two months to pull off, with renovation starting in late June. A student graphic designer created the Pono Poké look and logo. Luckily, the first shipment of fish hadn't arrived yet when the derecho knocked freezers off line Aug. 10.
Green said the response has been overwhelmingly positive, with busy times even in the typically slow hour before the food court closes at 7 p.m. People stop by to pick up a wrap or bowl for their evening meal, he said.
"Everybody who has had it has for sure come back," Green said.
One of those repeat customers is Ariana Sanchez, a senior in animal ecology, who said Pono Poké is a much-needed addition that helps satisfy cravings for some of her favorite flavors.
"I think it's really ingenious," she said. "This place adds a whole new touch to the food court."