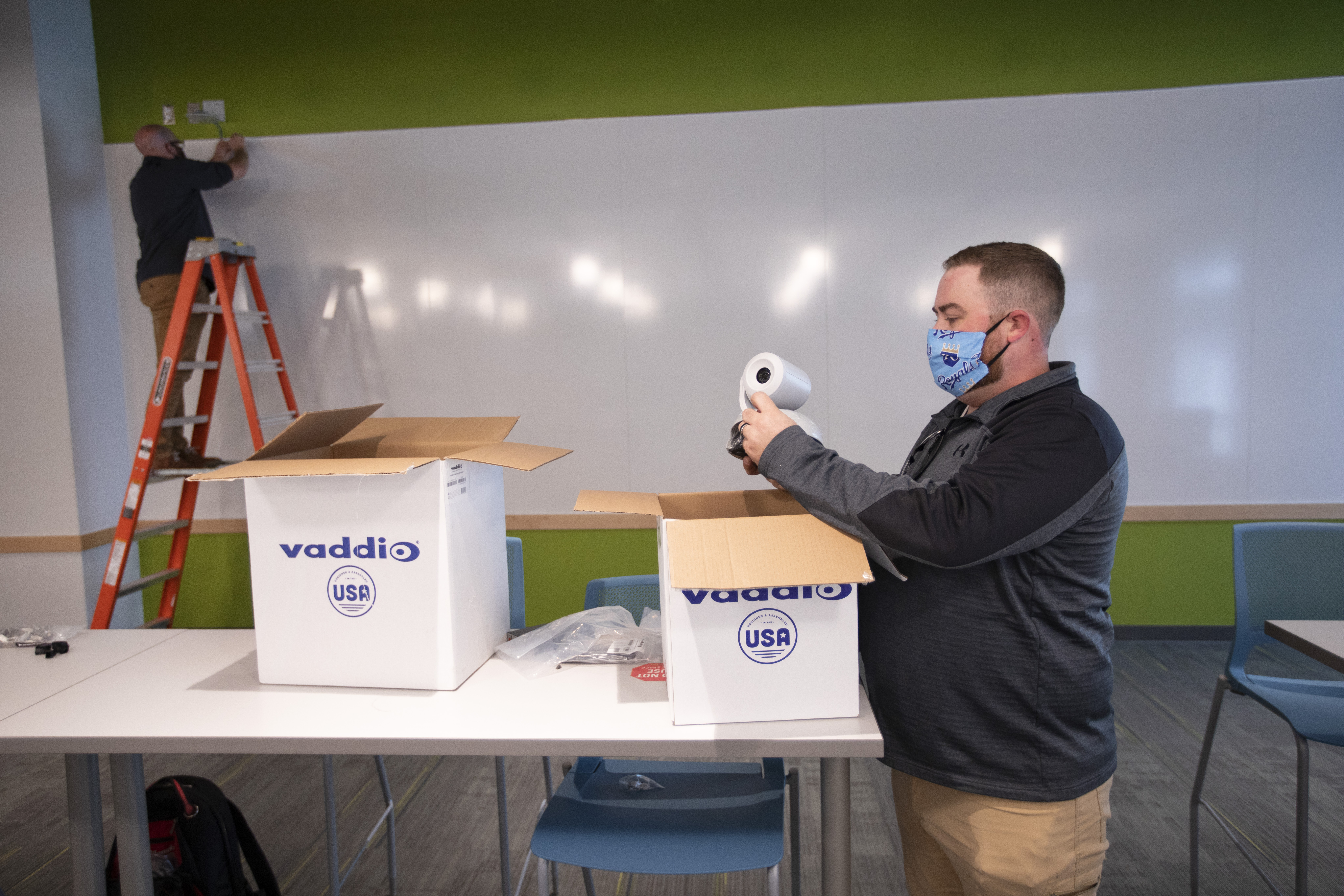 A small information technology services (ITS) team over the last two months has outfitted more than half of the general university classrooms in use this fall with video cameras and microphones to record or livestream in-person teaching.
But when he thinks about the sweeping project to make classrooms more suitable for distance learning and hybrid instruction, the remaining work weighs heavier on Mike Pedersen's mind than satisfaction about what's been accomplished.
"It keeps me up at night that we still have rooms that don't have this technology," said Pedersen, manager of the ITS audiovisual experience team. "While we're proud of what we've done, we also recognize there's a lot undone. We're doing what we can, and it's taken longer than we expected."
The audiovisual team aims to have video equipment installed by mid-October in each of the 147 in-use general university classrooms. As of Sept. 30, 77 were up and running. Some colleges and departments also are adding similar video capabilities in the seminar and laboratory spaces they manage, Pedersen said.
While instructors have been patient and understanding, Pedersen hopes a burst of installations over the next couple of weeks will complete all classrooms with a chunk of the fall semester still left.
"We have a ton of internal pressure on ourselves to get these finished," he said.
Getting in gear
The seeds of the project were planted in the spring shift to virtual instruction. Thinking that in-class video recording may be essential during the pandemic, the audiovisual experience team surveyed the 207 general university classrooms in mid-March and found only 17 were equipped for lecture capture. Pedersen said he knew it would be a low number, but he wasn't sure how low. There had never been a reason to do an inventory.
Pedersen at first proposed a limited project, installing video recording systems with remote control camera movement in 20 of the largest lecture halls. After consulting with his counterparts at other state Board of Regents universities, he found a different cost-effective option for expanding video capability to all general university classrooms. An order for the higher-end equipment with remote control was placed in late June, and the first sets of the lower-cost setups were ordered in early July.
It was immediately clear that the gear couldn't be acquired quickly. Backlogs mounted as demand spiked for video recording. Shipping delays were 10 weeks in some cases, Pedersen said.
"We weren't the only college thinking through this. Everybody and their dog was thinking through this," he said.
Two levels of tech
Current plans would furnish 39 large classrooms and lecture halls with the more sophisticated level 1 system. That includes a motorized remote camera with pan, tilt and zoom as well as integrated audio that connects to the existing microphones classrooms already have for in-class amplification. Some systems also connect to a cloud-based platform that automatically records class sessions. Twenty-seven of the level 1 classrooms are complete, as of Sept. 23.
The other 108 university classrooms will have simpler level 2 systems, which includes a camera and microphone that connect to a laptop or other device by USB. The microphone is stationed at the classroom's teaching area, so instructors can't stray too far if they're recording or livestreaming. Fifty of those systems have been installed.
Depending on what already is in the classroom, a level 1 setup costs between $10,000 and $20,000, Pedersen said. Level 2 systems run about $500. Money initially budgeted for other fiscal year 2021 audiovisual upgrades has covered most of the cost of the video project.
ITS is maintaining an updated online list of general university classrooms that identifies the video system in each classroom and, in rooms where the installation hasn't happened yet, a tentative schedule and the type of system planned.
Laminated instructions for each type of system are attached to teaching stations in every classroom. The level 1 and level 2 instructions also are available online. Alcohol wipes were placed in each classroom for instructors to sanitize the equipment before and after class.
Long days
While obtaining the equipment slowed installation at first, the time that installation takes also has been a factor, with just three audiovisual team employees working on campus, Pedersen said.
The level 2 systems take about an hour to set up. The level 1 systems can take up to 10 hours, Pedersen said. Since the level 1 rooms are large and in demand, completing an install without interruption on a weekday while classes are in session isn't possible.
"We've had to split it up and do it in chunks," he said.
Trying to get as much done as possible before the semester, combined with the usual start-of-the-year testing of classroom audiovisual equipment, made for a heavy workload in August, Pedersen said. That was complicated by the Aug. 10 derecho, as audiovisual systems sometimes don't respond well to abrupt power outages.
"There were a lot of long, long days in the three weeks leading up to classes starting. We were here on nights, weekends," Pedersen said.
While the project has been daunting, the feedback the team has received from faculty has been encouraging.
"A few times we've done some one-on-one coaching on how to use the system, and once we're done walking through it, the response typically is, 'Wow, this is really great. This is going to be helpful,'" Pedersen said.