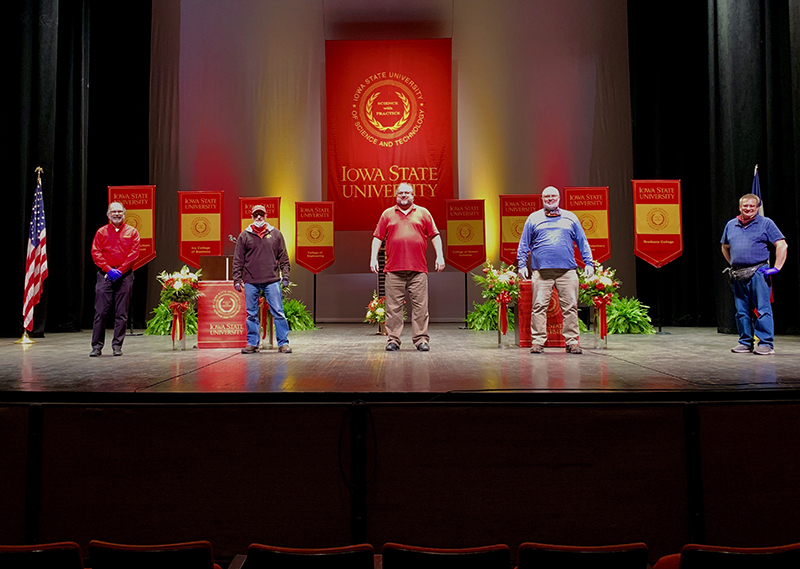 Despite hosting no performances, Stephens Auditorium has witnessed a lot of coming and going in the last week. University leaders and others with roles in an ISU commencement ceremony honored appointments to record their parts for one or more of the undergraduate, Graduate College and College of Veterinary Medicine ceremonies.
Less than a week after President Wendy Wintersteen wrote to tell graduating students the COVID-19 pandemic was forcing their ceremonies online, production was underway. Recording began April 16 and is scheduled to wrap up April 24. The finished, edited graduation ceremonies will be available on demand beginning at 10 a.m. CST Saturday, May 9, on graduation.iastate.edu.
"Our students may be participating all over the world," said university registrar Jennifer Suchan. "We want them to view it at a time that works for them, their families and loved ones."
Suchan said the goal is a short ceremony -- perhaps 30 to 40 minutes -- that includes many traditions associated with an Iowa State commencement. For example, Simon Estes will sing, the president will officially confer degrees, students graduating with distinction will be recognized, "Bells of Iowa State" will play, to name a few.
Suchan said undergraduate colleges also are preparing their own celebratory virtual events. Those also will be available May 9 on the graduation website.
More detail about graduation virtual events will be shared in the May 7 edition of Inside.