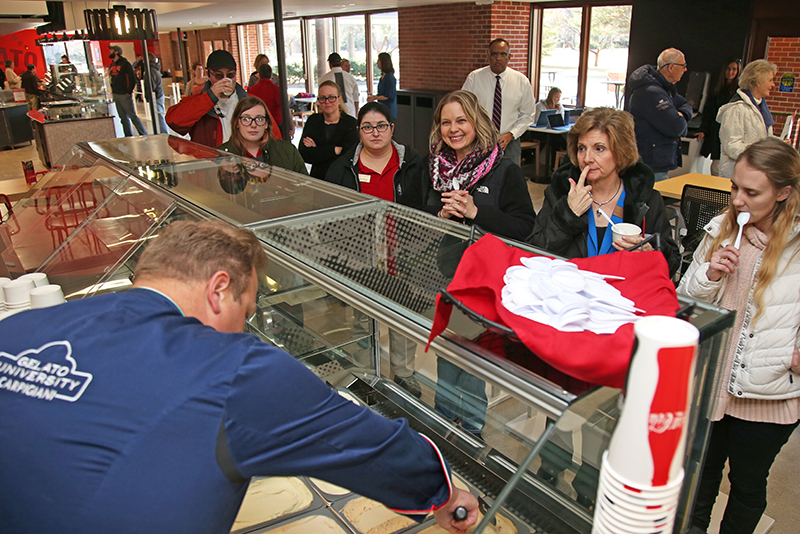 Curious employees and students jumped at the chance to return to the Hub last week after a nine-month ISU Dining renovation shuttered the popular eatery. Hundreds stopped by for coffee, gelato and dessert samples during a Jan. 10 open house. The Hub's two venues, Roasterie coffee café and Heaping Plato Mediterranean food, began service the next day.
In addition to the new names and themes, the obvious change is a brighter, open layout and counter lines that no longer converge on each other.
"We wanted to create two distinct venues in this space," said ISU Dining director Mohamed Ali. He said the location serves one of the most diverse dining crowds on campus, including students, administrators, faculty, staff and, particularly during the summer, prospective students.
The primary entree at Heaping Plato features meat or falafel options served in a pita, on a bed of rice or in a bowl of mixed greens (potatoes during breakfast service). Also on the menu are cold sandwiches, soups and Greek sides and desserts.
In addition to brewed coffee, coffee-based drinks, teas and Italian sodas, the Roasterie serves cold-brewed and nitrogen-infused --"nitro" -- coffee, both on tap. Its bakery case features breads and pastries from the ISU Dining bakery and eight flavors of gelato daily, prepared in ISU Dining's new Friley Hall creamery.
Kiosk ordering and payment is available along the west wall. Ali said he'll revisit table and counter seating after a few months of operation to see if and where seats should be added.