During the last three calendar years (2016-18), university employees reported 80 campus falls on snow or ice -- 79 of which resulted in an injury, from bruising to broken bones to concussions. Heather Simmons, an occupational safety specialist who oversees accident investigations for environmental health and safety (EHS), knows the actual number of winter falls is much higher, especially if student and visitor falls were included. Through data analysis that inspires education campaigns, she's determined to reduce that number.
For example, Simmons knows that:
Each of those years, between 25 and 32 percent of reported winter falls occurred in campus parking lots, typically within a few feet of an employee's vehicle. No other locale -- sidewalks, building steps, crosswalks, loading docks, raised sidewalk pads that alert a visually-impaired person to a street intersection, for example -- is as risky, statistically.
Peak times for winter falls are 7-9 a.m. (31 percent of reported falls) and the 11 a.m.-noon window (24 percent).
The parking lot percentage is significant, she noted, when you consider that most employees' walk to their building involves a proportionately short distance in their parking lot.
Simmons hopes sharing these trends will help the campus community address them. Ultimately, she said, it's about people, not data.
"We care about our employees; we don't want our faculty, staff or students to get hurt," she said.
In fair weather, Simmons or other EHS staff walks with campus services leaders to identify problem areas -- sunken or cracked sidewalks, for example -- and correct them before temperatures drop for the season. She developed challenges for ISU WellBeing's Adventure 2 website that draw attention to safe winter walking winter storm parking, each worth 25 points.
Help yourself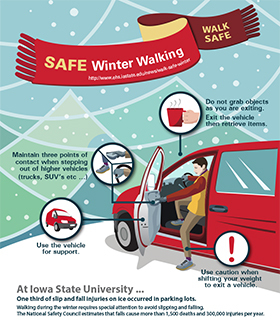 When winter precipitation arrives:
If a campus plow is in your lot when you arrive, choose a stall in the cleared portion of the lot, even if it's not your usual parking stall, said campus services manager Les Lawson. This allows the plow driver to clear the lot completely. This year, plow drivers are adding extra sand to parking lots. They also will clear lots a second time in the early morning hours after a snowstorm ends.
Allow extra time to park your vehicle and walk to your building. Don't expect your commute to be normal and don't hurry to make up time. During your walk, avoid distractions such as a cellphone.
Choose footwear that helps you stay upright (for example, rubber soles, no heels).
Campus services provides a salt/sand mix in a shaker bottle labeled "for your use" at the main door of most buildings. Take the "your" personally, Lawson said. Employees may use the mix on trouble spots outside their buildings.
Report larger problems with snow or ice -- for example, a sidewalk depression where ice inevitably forms -- to FPM's service center, 294-5100 or online.
Snow business
Simmons praised campus services' all-in efforts to move snow.
Fifty-nine employees work on snow removal on those white mornings. That typically includes 15 truck plow/sanding drivers clearing parking lots and streets, 22 tractor plow or broom operators working on sidewalks, and 22 staff with shovels and blowers clearing steps, entries and short stretches of sidewalk. Each route takes about six hours to complete before the team member starts over, as weather demands.
Lawson said the goal is to have campus plowed by 7:30 a.m., based on 8 a.m. employee start times. Lots that receive the earliest attention are 29-30 (north of Molecular Biology and Genetics Lab), 41 (north of General Services) and 50 (west of Forker), the Iowa State Center southwest lots, and those "we know are heavily used by custodians and cooks who start at 4 a.m." On snowy mornings, any parking permits are valid in those lots.
From the Veterinary Medicine college to Schilletter/University Village, the campus includes 23 miles of streets, 34 miles of sidewalks and 162 acres of parking lots.