A national search will begin next month for the next president of the ISU Research Park. Steve Carter, who has led the nonprofit research park since 2000, will retire from Iowa State on Dec. 31. Warren Madden, who retired as senior vice president for business and finance in June 2016 after a 50-year career at Iowa State, will serve as interim research park president, effective Jan. 1, 2019.
Interim vice president for economic development and industry relations David Spalding said the Buffkin/Baker search firm, Winston-Salem, North Carolina, will assist with the search. The firm's primary role is to identify qualified candidates and build a strong candidate pool. Michael Crum, Ruan Chair in Supply Chain Management in the Ivy College of Business and chair of the research park's board of directors, is leading a search committee that will select finalists who will interview with campus and off-campus stakeholders. The committee is a subset of the park's board of directors with the addition of a research park staff member. It includes:
Crum
Spalding
Peg Armstrong-Gustafson, Waukee, founder and owner of Amson Technology consulting firm
Michele Farnham, manager of facilities services, ISU Research Park
Lisa Lorenzen, executive director of the ISU Research Foundation and the office of intellectual property and technology transfer
Steve Schuler, Urbandale, retired from a career in banking
Spalding, who also is the Raisbeck Endowed Dean in the Business college, said the goal is to have the next research park president in place by late spring.
Record of growth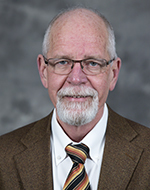 Carter has served as park president for 18 of its 31 years. When he came on board in 2000, the 200-acre park included five buildings and had served 111 companies in various stages of development -- two-thirds of which were in the business incubator. Since then, an additional 179 companies have called the research park home, about half as incubator tenants. An additional 80 teams have participated in one of two startup programs, Iowa State's Startup Factory or the private Ag Startup Engine.
During Carter's 18 years, employment at the park grew from 930 jobs to 2,290. Employment at companies that are former research park tenants rose from 348 to 2,270 jobs.
The park's land size doubled on Carter's watch. Two property purchases added another 200 acres, 40 of which were donated to Story County Conservation for its Tedesco Environmental Learning Corridor. In October, Carter spoke to the Ames City Council about a financing package to extend city utilities farther south on South Riverside Drive along the park's east border.
The research park contains 15 buildings, three of whose private owners offer amenities to the community such as dining and child care. Of the remaining 12, the park owns 11 and one was built privately.
Beating the odds
Carter will admit the park's success rate defies the odds. He has a list of 13 companies with origins in the research park that either were purchased by a larger company or had an IPO (initial public offering), two measures of entrepreneurial success.
"The probability of this number of companies in a 20-year-window in a single, rural Midwestern community is astronomical," Carter said.
Statistically, he said, there ought to be one IPO every 10-15 years in Iowa. Ames has had five in 20 years.
"There's been a lot of success here, and I think part of it is, there's a lot of really smart people, really good people, around Ames," Carter said, deflecting credit. "Ames has developed a culture and the park is part of that, providing a physical environment. Iowa State and how it deals with businesses is also part of that.
"All of these factors evolved over these last 20 years to where it really provides a benefit to companies that translates into success for them," he said.
Building relationships
Carter also credits the scientists and entrepreneurs for choosing to start their companies in Ames. "Every one of them could have gone different places, and they built them here," he noted.
The key, Carter said, is building relationships.
"We -- the research park and, to a degree, the university and the community -- have taken risk and managed risk to help these companies at times when they faced challenges. They don't forget that," he said.
"For us, that's been a good bit of our value proposition. They know we're here to help them, whatever it may be."
For Carter, that desire to help doesn't shut down on Dec. 31. Even in retirement, he speculated that he'll "stay involved with the startup business community in different ways."
Multiple hats
Prior to leading the research park, Carter served from 1990 to 2000 as director of the ISU Small Business Development Center. He also was the director of Iowa State's Pappajohn Center for Entrepreneurship from its inception in 1996 to 2016. Neither unit started in the research park, but both reside now in the park's Economic Development Core Facility, which opened in summer 2016 as a nexus for ISU programs and offices that help businesses form and grow.