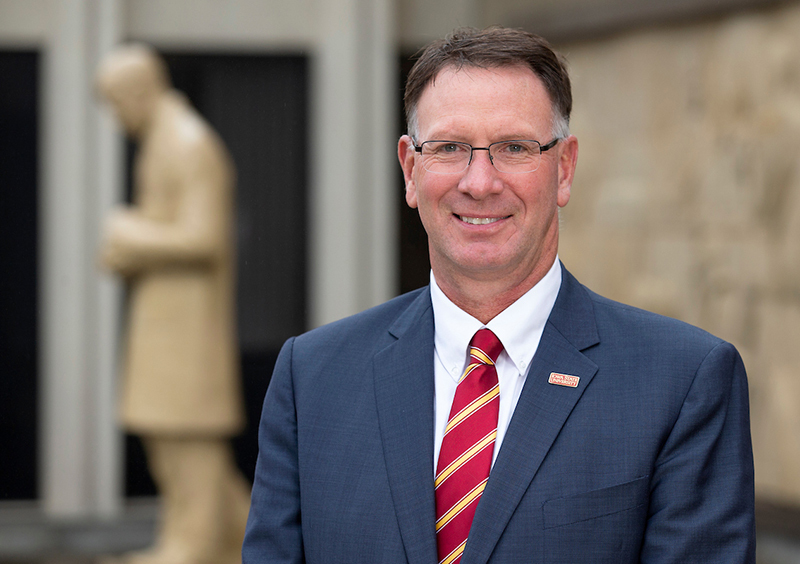 Dr. Dan Grooms began serving as the Dr. Stephen G. Juelsgaard Dean of Veterinary Medicine on Oct. 1.
Grooms comes to Iowa State from Michigan State, East Lansing, where he'd been a faculty member in the College of Veterinary Medicine since 1997 and chair of the large animal clinical sciences department since 2014. His expertise is infectious diseases in cattle.
The Ohio native earned a bachelor's degree in animal science from Cornell University, Ithaca, New York, and two degrees from Ohio State University, Columbus -- a veterinary medicine (DVM) degree and a Ph.D. in veterinary preventive medicine. In between the two doctoral programs, he worked in a private practice in central Ohio for five years.
Grooms' office is in 2508 Vet Med administration. He can be reached by phone at 294-9860, by email at dgrooms@iastate.edu.
Grooms succeeds Lisa Nolan, who left Iowa State in May 2017 to become dean of the veterinary medicine college at her alma mater, University of Georgia, Athens. Pat Halbur, professor and chair of the veterinary diagnostic and production animal medicine department and executive director of the Veterinary Diagnostic Laboratory, served as interim dean.