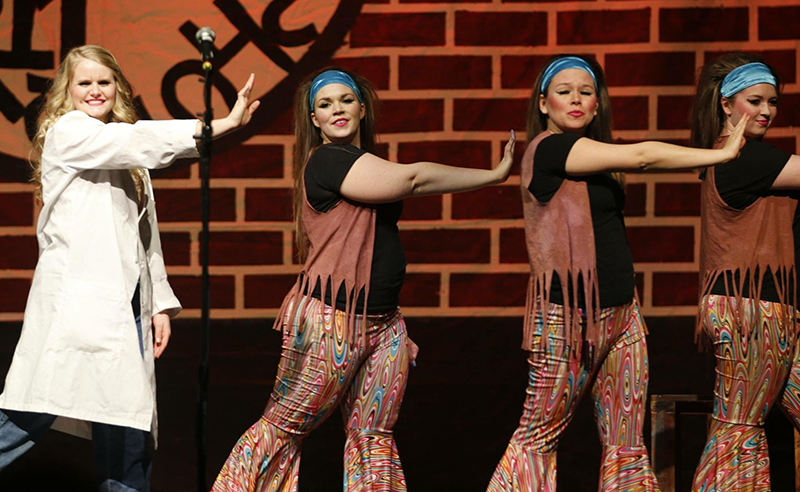 The 87th edition of "Varieties," Iowa State's annual student musical talent competition, will be held over two weekends this month in the Memorial Union Great Hall.
Semifinals will take place on Friday and Saturday, Feb. 9-10, with doors opening at 6:30 p.m. for the 7 p.m. performance each night. Varieties final performances also will begin at 7 p.m. on Friday and Saturday, Feb. 23-24. Doors will open at 6 p.m.
Varieties shows last about two hours and include a set of mini-musicals alternating with vignettes, all pulled together and introduced by emcee teams of two or three people. ISU students compete in all three categories.
Musicals are up to 22 minutes long and feature original lyrics and choreography performed by groups of 30 to 60 students. Vignettes, with a time limit of 10 minutes, showcase a wide range of student talents, from comedy to juggling, dancing and singing.
Large groups, vignettes and emcees will compete both nights of the semifinals. The top four mini-musicals, top four vignettes and top two emcees advance to compete at finals.
"Step Into Stardom" is the theme this year and contestants will find ways to incorporate it into their performances.
Semifinals tickets are $10 ($6 for ISU students). Finals tickets are $14 (ISU students $8). A $4 ticket discount also is available for groups of 10 or more and youth 18 years and younger. Purchase tickets at midwestix.com, or in the MU Maintenance Shop box office and by phone (294-8349), weekdays 11 a.m.-5 p.m. An additional service fee applies to telephone and online orders.