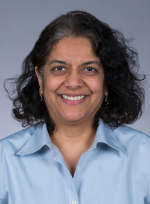 Surya Mallapragada, Distinguished Professor and Carol Vohs Johnson Chair in chemical and biological engineering, will join the office of the vice president for research July 1 as a half-time associate vice president for research. She will focus on research advancement, to include engaging with research foundations, developing interdisciplinary collaborations and nominating faculty for prestigious awards.
Mallapragada also is a scientist in the Ames Laboratory's division of materials science and engineering, and a researcher with the Nanovaccine Institute. She has served as a faculty fellow in the office of the senior vice president and provost since 2015, as chair of the chemical and biological engineering department (2009-13), and as program director of material chemistry and biomolecular materials at Ames Lab (2004-08).
Her research program focuses on designing polymeric biomaterials and bio-inspired materials for delivery of genetic material or vaccines. She was named a fellow in the National Academy of Inventors last year. Her research group has six patents, with more in the works.