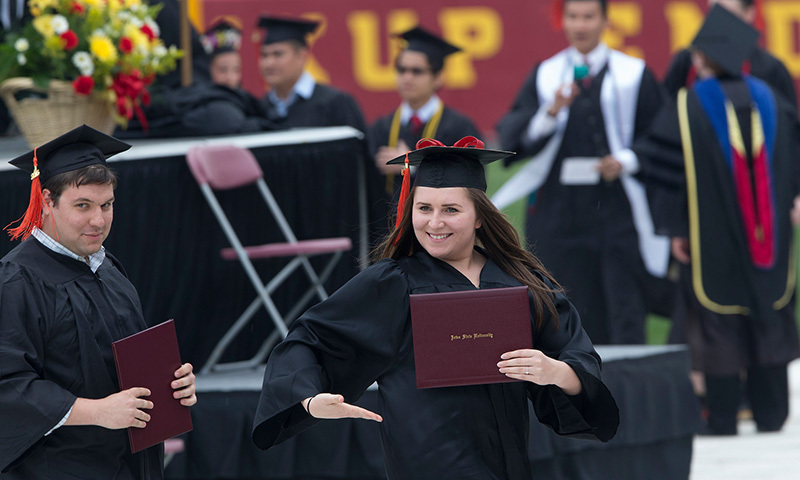 An estimated 5,093 Iowa State students will complete degree programs this semester and celebrate the accomplishment at one of three commencement ceremonies this week. The graduating class represents an increase of nearly 500 students over last spring's record-breaking class.
Graduate College ceremony
The Graduate College will honor an estimated 497 master's and 133 doctoral students during a ceremony on Thursday, May 4 (7:30 p.m., Hilton Coliseum). Catherine Kling, Charles F. Curtiss Distinguished Professor of Economics, President's Chair of Environmental Economics and director of the Center for Agricultural and Rural Development, will address the graduates. Kling was elected to the National Academy of Sciences in 2015.
The ceremony will be livestreamed on YouTube.
Veterinary Medicine ceremony
The College of Veterinary Medicine will confer Doctor of Veterinary Medicine degrees on a projected 141 candidates on Saturday, May 6 (noon, Stephens Auditorium). The guest speaker is alumnus (1983) Dr. Morgan McArthur, who works as an agriculture and community resource development educator for the University of Wisconsin extension system in Baraboo. He also is a professional speaker, turning an aversion to public speaking in the 1980s into a 1994 world championship among 10,000 Toastmasters International competitors.
Undergraduate ceremony
An anticipated 4,322 undergraduates will receive their diplomas on Saturday, May 6 (1:30 p.m., Jack Trice Stadium). Iowa State alumnus (aerospace engineering, 1986) and Orange City native Dennis Muilenberg, who serves as chairman, president and CEO of The Boeing Company, will address the graduates. The world's largest aerospace company, Boeing employs approximately 150,000 people across the United States and in more than 65 countries. He is receiving an honorary Doctor of Science degree for "outstanding contributions to the advancement of science and technology, particularly in the field of aerospace engineering." Throughout his career, Muilenberg has maintained a connection to Iowa State and the undergraduate students.
Stadium gates 1 (northeast), 3 (south) and 5 (northwest) will open at 11:30 a.m. and general admission seating will be in the southern half of the stadium's lower bowl. Graduates will be seated on the field. Concessions counters in the southeast and southwest corners of the stadium will be open.
The ceremony will be livestreamed on YouTube.
Inclement weather plan
Tickets are not required for the outdoor ceremony. In case of inclement weather, however, the ceremony will move to Hilton Coliseum and tickets will be required for admission. Students who responded via AccessPlus that they intend to participate in the ceremony received four inclement weather tickets for their guests. Additional seating will be available in Stephens Auditorium, where guests will view the event via livestream. Tickets aren't needed at Stephens Auditorium.
More graduation events
Graduating members of Iowa State's lesbian, gay, bisexual, transgender, queer, intersex, asexual and ally community will be recognized during the Lavender Graduation ceremony on Thursday, May 4 (3-5 p.m., east gymnasium, State Gym).
From Thursday evening through Saturday morning, the colleges will honor their graduating students at convocations and receptions.