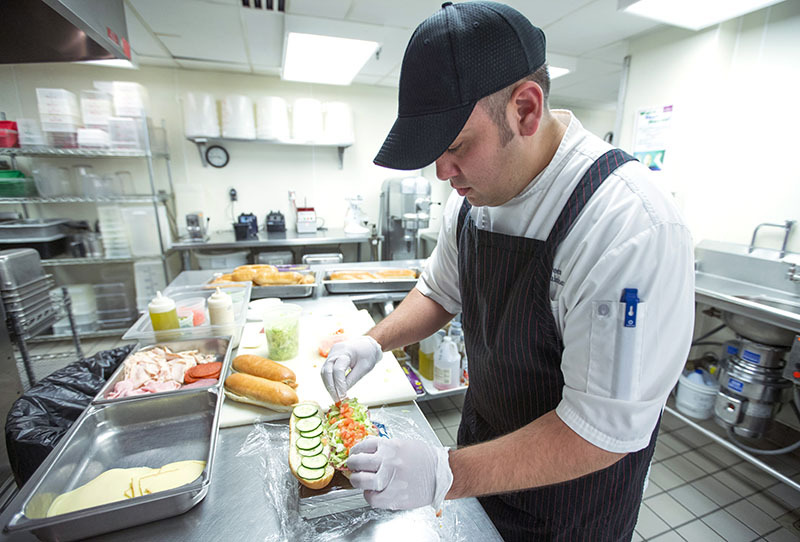 "Off the chain."
"Loved it."
"I don't normally go for tofu, but I would definitely get it again."
That's some of the feedback ISU Dining received during an April 27 sampling of menu items that could be featured at its newest venue, opening this fall in the Memorial Union. The concept, named Lance and Ellie's (a nod to ISU's famous pair of swans), will be in the food court space currently occupied by the Subway national sandwich chain.
Subway's lease expires at the end of May. ISU Dining staff jumped at the chance to bring in their own sandwich (and more) concept, utilizing their cadre of creative chefs and from-scratch items.
"We wanted to offer fresh food -- exciting options produced by our talented staff," said Mohamed Ali, ISU Dining director.
What to expect
ISU Dining chef Nolan Green said the Lance and Ellie's venue will offer made-to-order sandwiches (toasted if desired), wraps and salads, along with sides, desserts and drinks. About eight themed sandwiches -- for example, the turkey or soy harvest (fried tofu) items that were sampled last week -- will be standard menu items, but also customizable. A different hot sandwich special also will be featured daily.
"We created a concept where you can choose your own adventure," Green said. "We wanted to give that feel of a delicatessen -- where you could choose your meats and your own way of putting your sandwich together -- and tried to marry that with other current concepts, like Jimmy John's and Potbelly."
Ali and Green both said the quality of the products used, with attention to health-minded options, will make Lance and Ellie's unique. For example, selections will include house-made dill pickles, Boar's Head meats (which use fewer additives and leaner cuts), and tofu likely sourced from an Iowa City company that uses Iowa-grown soybeans.
"I want to emphasize the quality -- when it comes to ingredients, using Iowa products, and using premium meats," Ali said. "And, as a dining group, we want to show our culinary skills."
Timing
Ali said, barring any construction delays, the goal is to have the new space remodeled and ready to serve customers when the fall semester begins. Lance and Ellie's will employ 20 to 30 students and two fulltime dining staff (a cook and a sous-chef). He said construction won't close any of the current food court venues, which will be accessible all summer.
Spoiler alert
Ali said future plans include reconfiguring the current beverage area in the center of the MU food court. Look for the addition of a comprehensive salad bar that includes grilled meats and vegetables, as well as a new beverage station.
He said ISU Dining also plans to expand its GET Mobile app -- which allows users to preorder items for pickup at the Hawthorn (Frederiksen Court) venue -- to include service at Lance and Ellie's.