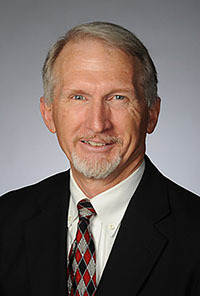 John Lawrence will fill the role of interim vice president for extension and outreach, succeeding Cathann Kress, who accepted an appointment as VP and dean of the College of Food, Agricultural and Environmental Sciences at Ohio State University, Columbus.
Lawrence, associate dean for extension programs and outreach in the College of Agriculture and Life Sciences and extension director for agriculture and natural resources, will become acting VP on March 31 and step into the interim position when Kress departs on April 29. He also is a professor in economics and serves as director of the Iowa Nutrient Research Center and acting director of the Beginning Farmer Center.
Lawrence was hired as an extension livestock economist and assistant professor at Iowa State in 1991. During his career, he has served as director of the Iowa Beef Center and assistant director of the Iowa Agriculture and Home Economics Experiment Station.
The southwest Iowa native holds two degrees from Iowa State -- a bachelor's in animal science and a master's in economics -- and earned a doctorate (agricultural economics) from the University of Missouri.
A national search will be conducted for a permanent replacement. Senior vice president and provost Jonathan Wickert said the search will be launched in the coming months.