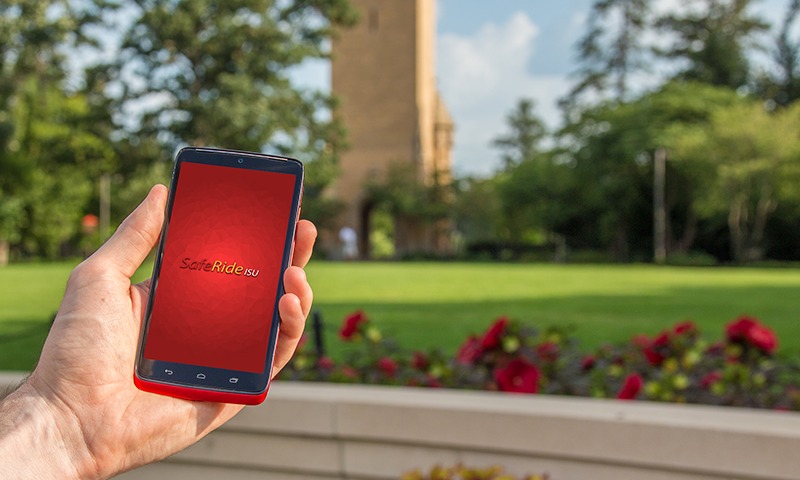 SafeRide ISU, a new Uber-like service, will begin offering free night rides on campus Aug. 22.
Anyone concerned about walking on campus during evening and overnight hours (6 p.m. to 6 a.m.) can summon a car via an app or a phone call.
The service, offered by the department of public safety, is available throughout central campus and other university areas, including ISU-leased residence apartments, Greek parking lots and the basketball practice facility, said interim chief of police Aaron DeLashmutt. Anyone on campus, including visitors, can request a ride.
Answering the SafeRide summons will be ISU students who work for the police as community service officers. These uniformed students will pick up riders in university vehicles. The vehicles will not be police cars.

App user amenities
Students, faculty and staff will be able to summon rides using their Net-IDs and the SafeRide ISU app. The app is available for Android devices now and should be available soon through Apple's app store.
Those requesting a ride through the app will receive on-screen notification of the pickup time, vehicle license plate number and a real-time map view that tracks vehicle progress to the pickup site.
Visitors make a call
Visitors and others who don't have the SafeRide ISU app can request a ride by calling a SafeRide dispatcher at 294-4444.
A few rules
The SafeRide program has a couple of rules:
A maximum of three riders can be transported at a time
Those who are intoxicated can't ride. "They should call a cab," Delashmutt said. "Better yet, they should plan ahead and have a designated driver."
The SafeRide ISU program replaces the safety escort program, which provided some 6,000 assists to evening travelers last year.
"Demand for rides continues to grow," Delashmut said. "SafeRide should be more efficient and, more importantly, safer. It gets cars to people faster. And the app makes it easy for the university community to tap into a ride while freeing up dispatchers to handle other requests."