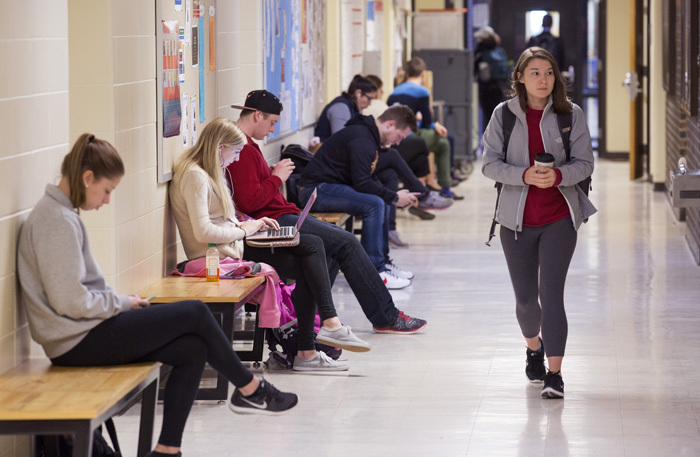 Students make use of new benches in a Lagomarcino hallway earlier this month (above). Forker, MacKay and Lagomarcino halls were the last of 24 campus buildings -- targeted for their high classroom volume -- since November to receive a total of 400 benches made by Iowa Prison Industries. They all feature cypress wood recycled from a patio fence replacement project at University Village apartments.
Yet to arrive are 10 benches that were stained to better match their destinations in Parks Library, Curtiss Hall and the ISU Foundation; and 13 for Beardshear Hall made from the wood of a scarlet oak tree that once stood southeast of the campanile.
Last spring, interested units were invited to contribute funds for benches, intended to both serve ISU's growing student body and provide a cleaner, consistent look to hallways. Facilities, planning and management, which coordinated the project, paid for more than half of the benches, with the office of the senior vice president for business and finance covering another 100 benches and the College of Engineering 60 benches. Other units paying for smaller quantities were the library, foundation, colleges of Human Sciences and Agriculture and Life Sciences, provost's office and president's office.