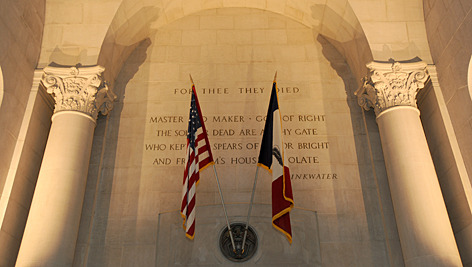 A living memorial
In 1928, the names of 117 Iowa Staters who died during World War I were carved into the walls.
In 1969, 10 bronze plaques bearing the names of 369 Iowa State men who died in World War II were mounted on doors to the Gold Star Hall.
In 1984, the bronze plaques were removed when names from World War II, Korea and Vietnam were engraved in the limestone walls.
Name additions have also been made in 2003, 2006 through 2011 and 2013, adding overlooked servicemen from World War II, Korea, Vietnam, as well as Somalia, Iraq and Afghanistan.
Iowa State's student union was built in 1928 as a memorial to students and alumni who died in World War I. Their names are engraved in the walls of the union's Gold Star Hall -- the spatial expression of the word memorial in Memorial Union. As more fallen former Iowa State students become known, their names are added to the wall.
This year, three new names are being engraved there -- one who died in May in Afghanistan, one who died on the USS Liberty in the Six-Day War and another from World War II. Iowa State's Gold Star Hall Ceremony will honor them along with two other fallen servicemen whose names were previously engraved, but their sacrifices not publicly remembered.
The Gold Star Hall Ceremony will be at 3:15 p.m. Tuesday, Nov. 11, in the Memorial Union Great Hall. The ceremony is free and open to the public. A reception in the Gold Star Hall will follow.
During the ceremony, all five will be remembered through personal anecdotes and photos. Their extraordinary stories span nearly a century and four conflicts.