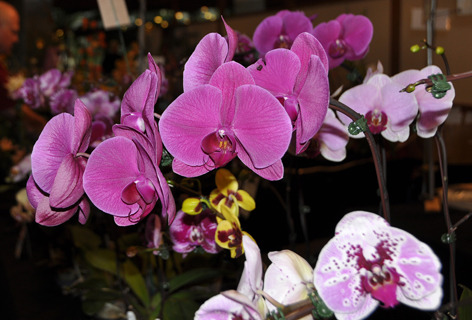 Get a taste of spring at Reiman Gardens' annual Orchid Fest this weekend, Feb. 8-9 (9 a.m.-4:30 p.m.). Exotic orchids in a variety of species and colors will be on display and available for purchase. Members of the Central Iowa Orchid Society also will be on hand to answer questions about orchids, giving both novice and experienced growers insight on their care and keeping.
Workshops and discussions are planned throughout the two-day event. They are:
"Orchid Care 101," Feb. 8 (9 a.m.) and Feb. 9 (11 a.m.), Tom Hillson, local orchid grower
"Native Orchids," Feb. 8 (11 a.m.) and Feb. 9 (1 p.m.), Carson Whitlow, orchid society member
"Culture of Phalaenopsis," Feb. 8 (1 p.m.) and Feb. 9 (9 a.m.), Robert "Doc" Bannister, commercial orchid grower
"Growing Under Lights," Feb. 9 (3 p.m.), David Scheesley, environmental control expert
Orchid Fest is free for Reiman Gardens members and ISU students; others pay regular gardens admission.