Honors and awards
Learning community advocates recognized
The Learning Community Advisory Committee presented awards to 12 faculty and staff members May 15 for their exemplary involvement in the past year with the university's learning communities. The awards include: Advocate Award, Champion Award, Equity Award, Faculty Engagement Award, Outstanding Innovations Award and Early Achievement in Learning Community Coordination.
Mallapragada named to DOE advisory committee
Surya Mallapragada, associate vice president for research, Anson Marston Distinguished Professor and Carol Vohs Johnson Chair of Chemical and Biological Engineering, was appointed to serve on the U.S. Department of Energy's Basic Energy Sciences Advisory Committee. The committee advises DOE leaders on the national basic energy sciences program, focusing particularly on the fields of condensed matter and materials physics. She was sworn in last month for a term that runs through December 2025.
Meissner receives national mentoring award
Professor of psychology Christian Meissner has received the 2023 Gallagher Mentor of the Year Award from the National Postdoctoral Association. The award recognizes the very best of mentors across the nation who advocate for postdoctoral scholars; celebrate diversity, equity and inclusion values; and empower their postdoc scholars to succeed. Meissner was recognized for his 15 years of outstanding mentoring of postdoctoral scholars and his mentoring style, characterized by his peers as empathetic and empowering.
Iowa State receives Tree Campus USA designation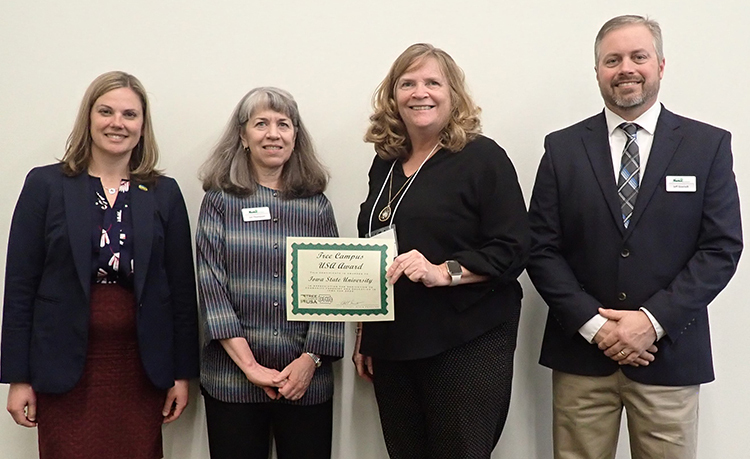 For the eighth consecutive year, Iowa State University has received the Tree Campus USA designation (2022), one of just seven in Iowa. The Arbor Day Foundation and Iowa Department of Natural Resources program honors colleges and universities for effective campus forest management and engaging staff and students in conservation goals. In their applications, schools address five standards: staffing a tree advisory committee, maintaining a campus tree care plan, dedicating annual expenditures for its campus tree program, and holding both an Arbor Day observance and student service-learning project.
Whitehead named architecture fellow
Rob Whitehead, associate professor of architecture, has been named a fellow of the American Institute of Architects, the institute's highest membership honor. The award recognizes architects who have made significant contributions to the profession and society and who exemplify architectural excellence. Just 3% of AIA members have received this distinction.
Ebbers named to leadership hall of fame
Larry Ebbers, University Professor emeritus in educational leadership and policy studies, was inducted into the first class of the American Association of Community Colleges' Leadership Hall of Fame as a recipient of the association's 2014 Leadership Award.
Sarkar receives wind engineering award
Partha Sarkar, professor of aerospace engineering, has received the Jack E. Cermak Medal from the American Society of Civil Engineers. The medal recognizes outstanding and cumulative contributions to research and/or practice in wind engineering. Each year, the recipient is invited to deliver the Jack E. Cermak Lecture at one of the society's national meetings.
Plummer to chair U.S. presidential advisory council
Dr. Paul Plummer, professor of veterinary diagnostic and production animal medicine and associate dean of research and graduate studies in the College of Veterinary Medicine, has been appointed chair of the U.S. Presidential Advisory Council on Combatting Antimicrobial Resistant Bacteria. The council provides advice, information and recommendations to the U.S. Secretary of Health and Human Services regarding programs and policies intended to support or evaluate U.S. government activities related to combating antibiotic-resistant bacteria. Plummer also serves as the executive director of the National Institute of Antimicrobial Resistance Research and Education, based at Iowa State.
Linda DeSchane named inaugural student employee supervisor of the year
The office of student financial aid, in partnership with university human resources, honored an inaugural Student Employee Supervisor of the Year this spring. Selection reflects mentoring, professionalism and leadership provided to hourly student employees. Nearly 30 individuals were nominated, and these supervisors were selected:
Student Employee Supervisor of the Year: Linda DeSchane, ITS Solution Center, who oversees nearly 40 hourly student employees
Student Employee Supervisor of the Year finalist: Raquel Espin Palazon, genetics, development and cell biology
DeSchane's nomination will be forwarded for additional consideration at the regional level.
Pollard is a top athletics director
Athletics director Jamie Pollard was named a 2023 Cushman & Wakefield AD of the Year by the National Association of Collegiate Directors of Athletics, one of 28 receiving the award this year. He was cited for his vision for ISU student-athletes' academic and athletic success and passion to implement it. He will be honored by his peers in June at the association's convention.
Yandeau-Nelson receives early career award
Marna Yandeau-Nelson, associate professor in genetics, development and cell biology, received the 2023 M. Rhoades Early Career Award from the the Maize Genetics Cooperation, a nonprofit organization dedicated to advancing research in maize genetics and breeding and developing the next generation of scientists. The award recognizes an individual who has been in a permanent position for eight years or less and has made significant research contributions through genetic studies of maize or related species.
Lawrence-Dill honored with service award
Carolyn Lawrence-Dill, associate dean for for research and discovery in the College of Agriculture and Life Sciences and professor in genetics, development and cell biology, received the 2023 Maize Genetics Cooperator Award from the the Maize Genetics Cooperation, a nonprofit organization dedicated to advancing research in maize genetics and breeding and developing the next generation of scientists. The award recognizes maize cooperators, active in the maize genetics community for at least 10 years, who have dedicated their careers to service by supporting community resources, organizing collaborative efforts or enabling maize research.
Karriker named association leader
Dr. Locke Karriker, Morrill Professor of veterinary diagnostic and production animal medicine and the Dr. Douglas and Ann Gustafson Professor for Teaching Excellence in Veterinary Medicine, has been installed as vice president of the American Association of Swine Veterinarians.
Smalley earns ag education teaching recognition
Agricultural education and studies associate professor Scott Smalley was one of seven recipients of the Golden Owl Award in Iowa. The award, supported by a partnership between Nationwide Insurance, the state Department of Education and the Iowa FFA Foundation, recognizes agricultural educators who devote countless hours and often their own resources to positively impact the lives of their students. Smalley is in the running for the grand prize of $3,000, the Golden Owl trophy and the title "Agricultural Educator of the Year" in Iowa.