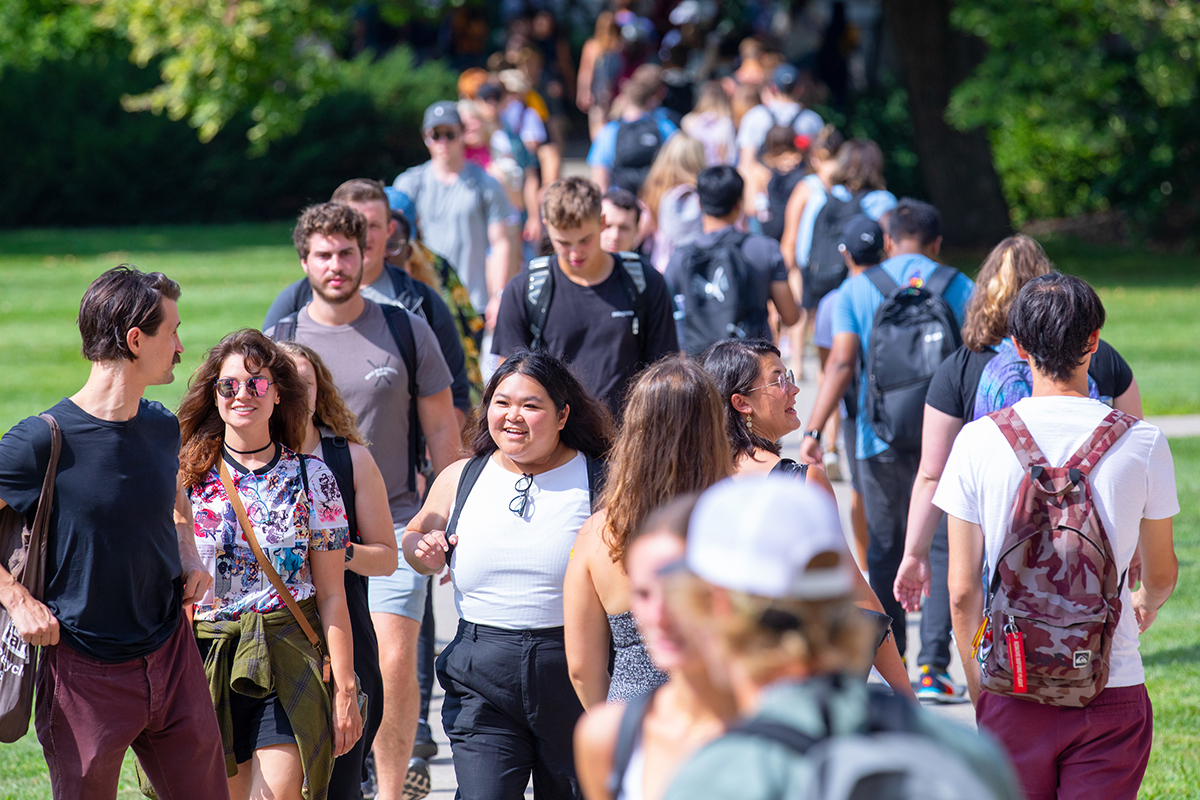 Sam McDaniel-Rold grew up just miles from Iowa State and fell in love with the campus during fall runs with her high school cross country team. The beautiful campus combined with encouragement from mom and dad -- both alums -- contributed to her decision to attend Iowa State, but neither was the deciding factor.
Similarly, Sean Pry was impressed by the beauty when he came for a campus visit as well as the recreation and undergraduate research opportunities Iowa State offers. His parents -- also both alums -- were influential in his decision, but like McDaniel-Rold it was a new major that sealed the deal.
"What really cemented it this spring was when Iowa State added the biomedical engineering program," said Pry, a first-year student from Cascade. "At first, I wasn't sure because it was only a minor. Once the major was offered that made the decision this is where I want to go for the next four years."
Fall enrollment
Pry and McDaniel-Rold join a class of 5,859 first-year students and an overall student body of 30,177. McDaniel-Rold said this is where she's meant to be.
"I wanted to go to Iowa State because of the amazing engineering program and when they added the biomedical engineering major I thought it was a sign that this was where I was supposed to be," said the first-year student from Ames. "Iowa State just felt like home."
The biomedical engineering major -- added this fall to meet the high-demand for employees in key STEM fields -- more than doubled its first-year enrollment projection with 53 students. The university also saw strong enrollment in food science, healthcare management, computer science and artificial intelligence -- all recognized strengths of Iowa State.
"This growth is a direct result of Iowa State University's commitment to provide innovative programs that meet student interest and workforce needs," said President Wendy Wintersteen. "Through our Degrees of the Future initiative, we are continuing to develop new programs and majors that will prepare students for high-demand careers and help Iowa businesses and industry thrive."
Growth in first-year students
Iowa State's total fall enrollment of 30,177, up 208 from the previous year, includes 25,332 undergraduate, 4,210 graduate and 635 veterinary medicine students, and students from all 99 Iowa counties, all 50 states and 117 countries. In addition to an increase in overall enrollment, first-year students increased 2.3% over last year, and 8.8% over two years.
Laura Doering, associate vice president for enrollment management, said 84% of first-year students for fall 2023 chose to participate in on-campus orientation during the summer.
"Our new students are excited to be Cyclones and to experience everything that Iowa State has to offer," Doering said. "Their engagement in on-campus orientation, learning communities, study abroad and other programs will help them succeed as they earn their degree."
Both Pry and McDaniel-Rold are involved with the biomedical engineering learning community -- one of the more than 85 learning communities Iowa State offers to help first-year students with the transition to college -- and are excited to be part of a new degree program.
"I've always been interested in science and math and knew I wanted to do something in engineering," Pry said. "With a biomedical engineering degree I can do work that directly helps other people and improves their quality of life."
McDaniel-Rold shares that motivation and hopes to one day use her degree to improve prosthetics.
"I want to use science, math and technology to help people," McDaniel-Rold said. "I want to help make their life easier."
Fall 2023 enrollment
| | |
| --- | --- |
| College | All students |
| Agriculture and Life Sciences | 4,250 |
| Business | 4,820 |
| Design | 2,103 |
| Engineering | 7,807 |
| Human Sciences | 3,381 |
| Liberal Arts and Science | 6,762 |
| Veterinary Medicine* | 801 |
| Interdepartmental units and graduate undeclared | 253 |
| Total | 30,177 |
*Professional and graduate students