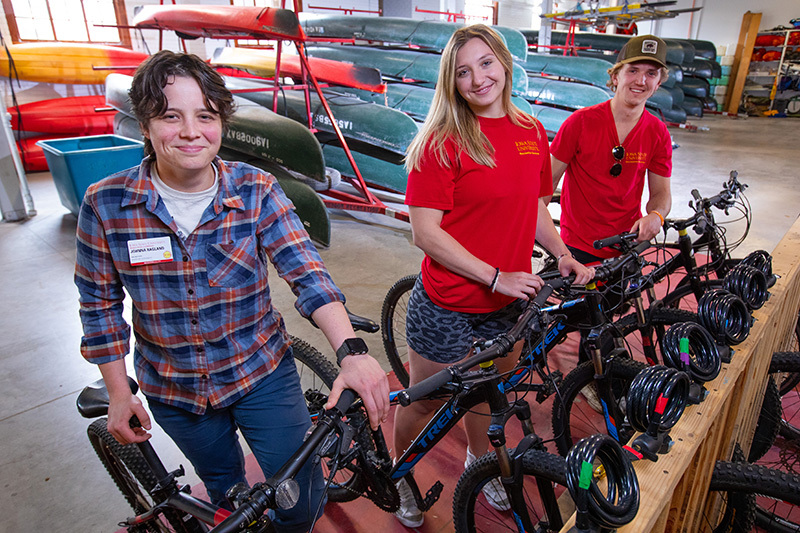 With the calendar about to flip to May, it means two things for many people -- sun and fun. Recreation services' Adventure Program can help with equipment, outdoor trips and advice to experience the outdoors year-round. Options are available to everyone:
Members: Any faculty, staff or student who has paid the recreation/student activity fee
Non-members: Anyone affiliated with the university who has not paid one of the fees
Community members: Anyone not affiliated with ISU
Membership provides cheaper prices to rent equipment or games and less expensive trips.
"We try to have anything and everything that will help get people outside," said Adventure Program coordinator Johnna Ragland.
Equipment rental
Memberships
Membership options for faculty, staff and retirees range from daily to annual. More information is on the rec services webpage.
Everything from tents to kayaks to dodgeball sets can be rented through the Adventure Program. Renting is a good way to see if you enjoy climbing before investing in personal equipment, or to determine if the pickleball craze scores points with you. People can rent equipment for a day, a weekend -- a four-day span -- or extended for five or more days. The website lists all available equipment and games, including winter gear such as cross-country skis and snowshoes.
"We rotate our equipment -- especially camping gear -- every few years as needed and add gaming gear as it becomes popular," Ragland said. "Our most recent additions are pickleball and spikeball."
When picking up gear, staff will conduct a quick tutorial on operating and maintaining the equipment, especially larger items like canoes, kayaks and paddle boards. There also are instructional videos on how to safely load those items on top of a vehicle.
The rental process is streamlined online with a request form followed by a confirmation email from program staff. In-person requests and pick-ups can be made at State Gymnasium. Rec services previously sold equipment and gear that had aged but still was in working condition. Ragland said that likely will resume next summer.
Ragland said faculty and staff take advantage of equipment both for personal and university use.
"For a lot of our gear, it is an even mix between faculty and staff and student use," she said. "We do have a lot of classes where instructors come to us to reserve equipment to use for a project or assignment."
Trips
This semester brought the return of many trips and workshops offered by the Adventure Program that were paused in spring 2020 because of the pandemic. They include overnight, weekend and extended trips for climbing, horseback riding, backpacking and other outdoor experiences.
"We have about 50 student staff members each semester that we conduct training sessions with to learn the soft and technical skills," Ragland said. "They then lead the group on whatever that trip may be. It is a great way to give people who sign up an experience in the outdoors."
All nonpersonal gear is provided to participants, including food and lodging, depending on the trip. Ragland said trip offerings will grow through next summer to prepandemic levels.
Bike maintenance
The Adventure Program recently added basic bike maintenance to its services with a variety of for-fee options. Routine bike safety inspections are free. An online form is available to schedule an appointment.
"We do basic repairs, and we have partnerships with a couple other shops that we can refer people to for more involved repairs," Ragland said.