Iowa State's second annual 24-hour online giving event, Forever True Day, will run from noon Tuesday, April 4, through noon Wednesday, April 5. A top goal of "24 Hours of Cyclone Power" will be to build on last year's benchmarks, said Dana Savagian, director of annual and special gifts at the ISU Foundation.
Follow Forever True Day progress on social media:
During the inaugural event in March 2022, Cyclones around the globe made more than 2,000 gifts totaling $646,689.
"Faculty and staff were a very significant part of last year's donors, and we're hoping to see great participation from them again," she said.
In addition to growing participation numbers, Savagian said the focus of Forever True Day will be on "showing your love for Iowa State and helping spread the word throughout the 24 hours -- on social media, word of mouth, email, whatever channels you have."
University employees can make a gift on www.ForeverTrueDay.com with a check, credit card or payroll deduction. An FAQ answers many questions about gifts during Forever True Day.
Hundreds of options
One factor to greater participation is offering lots of giving options, and Savagian estimated donors can choose from more than 200 fund options including scholarships and emergency grants, academic opportunities such as study abroad, research programs, support for faculty, athletics or funds for facilities.
"We want anyone with a passion for Iowa State to feel like they can make a difference on that day," she said. And if someone doesn't see the program or category they'd like to support, Savagian encourages them to call 515-297-8498 and an ISU Foundation staff member will assist them with their gift. Every gift should go to the donor's priority, she said.
Check your mail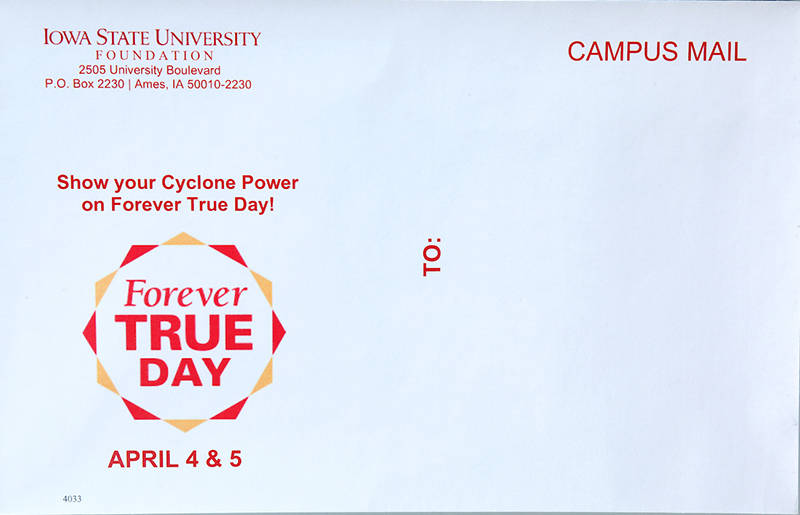 Faculty and staff received a campus mailing from the foundation earlier this week. In addition to a mail-in pledge form for Forever True Day, it includes a door hanger to promote the event and display in your office when you make a gift.