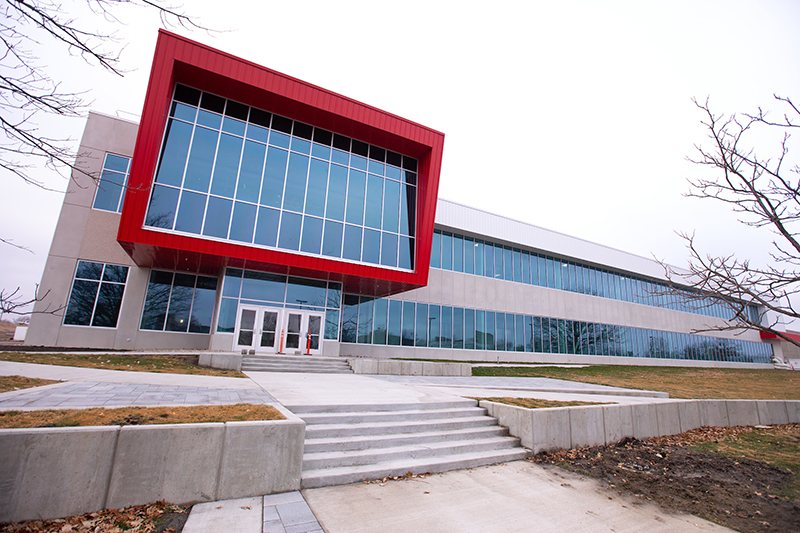 Gov. Kim Reynolds on Jan. 17 announced $40 million in funding for phase 2 of the Veterinary Diagnostic Laboratory (VDL) at the College of Veterinary Medicine campus.
The governor also proposed in her budget an additional $20 million from the Rebuild Iowa Infrastructure Fund -- $10 million each in fiscal years 2024 and 2025 -- to total $60 million in state support for the project.
"The Veterinary Diagnostic Lab is absolutely critical to support and protect our state and country's agriculture industry and food supply," Reynolds said in a news release. "This investment will significantly expand the VDL's capacity to support Iowa's $32.5 billion animal agriculture industry and will keep this nationally-recognized lab on the forefront of cutting-edge technology. Iowa will remain a global leader in agriculture, combatting foreign animal diseases, and recruiting and retaining veterinary talent."
In its fall funding requests to the 2023 Iowa Legislature, the university sought $62.5 million in state support over four years for the proposed $66.5 million second phase of the state laboratory. Rounding out the funding would be $2.7 million in university funds and $1.3 million in private gifts. Reynolds' announcement provides 60% of the funds needed for a second phase, which, when completed, would allow all VDL operations to be in one facility.
"We are deeply grateful to Gov. Reynolds for allocating these critical resources to construct phase 2 of the Veterinary Diagnostic Laboratory," said President Wendy Wintersteen. "This funding will help ensure the VDL can continue to provide cutting-edge services and support to Iowa's livestock and poultry producers."
Iowa Secretary of Agriculture Mike Naig also expressed gratitude for Reynolds' decision to provide funds for what he called a "critical piece of infrastructure."
"The Veterinary Diagnostic Laboratory is enormously important to Iowa's nation-leading livestock industry and provides immeasurable expertise on worldwide animal health and food safety issues," Naig said. "Our close partnership with the Veterinary Diagnostic Lab has been essential in implementing our response to the highly pathogenic avian influenza outbreak, and we rely on their team's recommendations as we enhance our preparedness for other foreign animal disease threats."
The initial $40 million state investment in phase 2 is available from funds directed to Iowa in the federal American Rescue Plan Act of 2021, the U.S. Congress' third major pandemic recovery package.
Phase 1 is 80% complete
The $75 million first phase of the VDL is about 80% complete and scheduled for occupancy late this fall. The first phase is supported by $63.5 million in state appropriations over five years (FY19-23), $7.5 million in university funds and $4 million in private gifts.
A second phase is necessary because 80% of the existing lab's work and services were not able to be included in Phase 1. These critical diagnostic services include molecular diagnostics, serology, virology, analytical chemistry, toxicology and pharmacology, genetic sequencing, bioinformatics, BSL-3 lab, and the VDL's research and development function.
Fully accredited by the American Association of Veterinary Laboratory Diagnosticians, the VDL provides quality diagnostic services for animals. The staff at the full-service laboratory process more than 100,000 cases each year and conduct more than 1.5 million tests annually.