As part of Iowa State's yearlong centennial observance of Jack Trice, university museums commissioned artist and Iowa State alumnus King Au, Des Moines, to capture three sculptures of Trice in creative photography for its permanent collection. Au's new works of art are featured in the exhibition, Through the Photographic Lens of King Au: Honoring Jack Trice, which opened this week in the Neva M. Petersen Gallery, lower level hallway of the Christian Petersen Art Museum at Morrill Hall. It runs through Oct. 8 and is open to the public weekdays 10 a.m. to 4 p.m.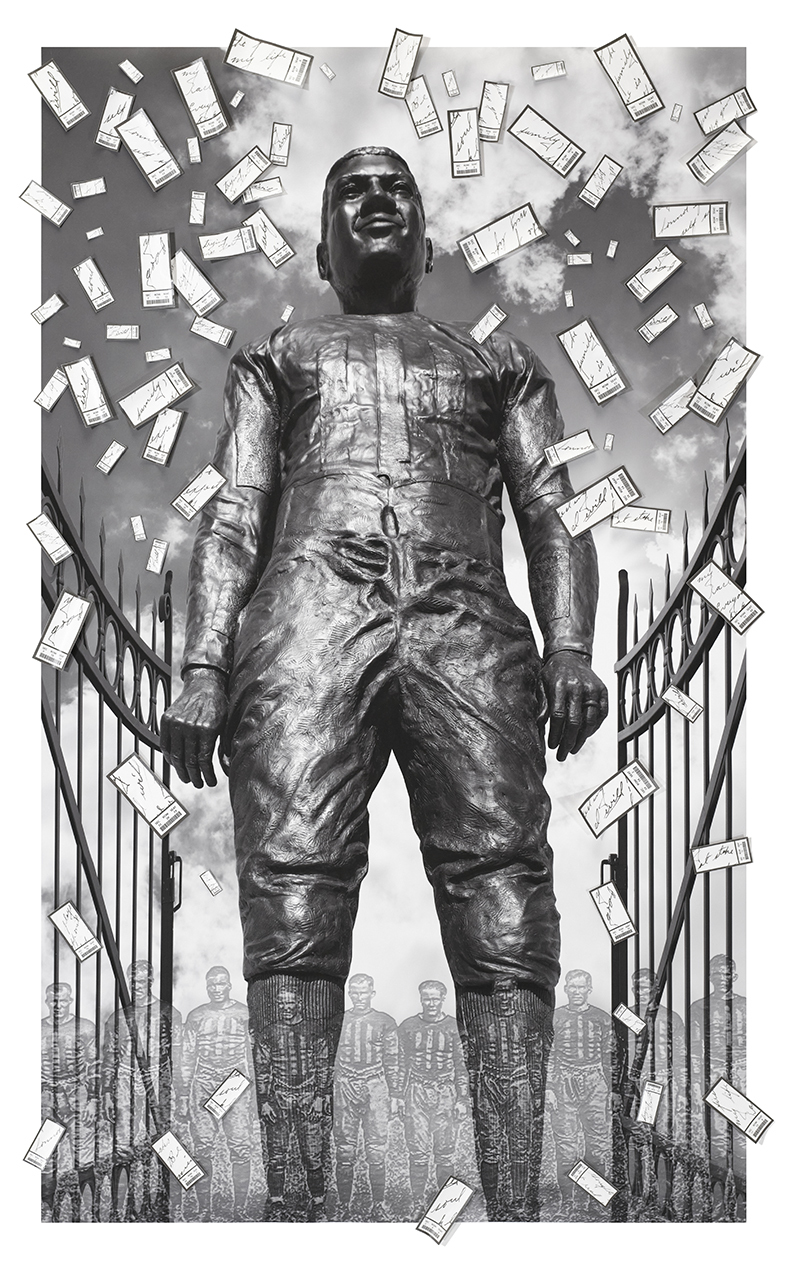 An opening reception will be held Saturday, Jan. 21 (2-4 p.m., Morrill Hall), with remarks from Au scheduled for 2:30 p.m. The event is free and the public is invited.
"Art has the power to commemorate, memorialize, celebrate and honor," said university museums director Lynette Pohlman. "King Au has been photographing Iowa State's Art on Campus Collection since 1995. In this exhibition, he adds his own unique interpretations of Jack Trice's legacy."
The exhibition includes large giclée prints, text about Trice and artist's video, "Beyond Game Day Conversations," about the project concept and implementation. In one of the commissioned images, "Game Day," Au celebrates Trice as an athlete and leader of his time, depicting Ed Dwight's 2009 sculpture I Will! The Jack Trice Legacy. Confetti-like football tickets are added to this image, each one with a barcode that scans to and represents an actual seat at Jack Trice Stadium.
Au earned bachelor's (1982) and master's (1985) degrees in architecture from Iowa State.
University museums will host several other special events this semester connected to the Trice centennial commemoration:
Sketching on Napkins | The Jack Trice Tribute Story: Breaking Barriers
Sunday, Jan. 29, 2-3 p.m., 1017 Morrill
Repeated Thursday, Feb. 9, noon-12:50 p.m., 1017 Morrill
This program explores the 2022 sculpture near the north entrance to the stadium by artist Ivan Toth Depeña that honors, commemorates and memorializes Trice's campus legacy as expressed through the power of art. It includes a video with Depeña, done in partnership with Cyclones.tv, on the process of creating Breaking Barriers.
Art walk: Athletics and the Body
Wednesday, March 29, noon-1 p.m., begins outside State Gym
Museums docent Steve Petska will lead an art walk that focuses on depiction of the human form in the university's Art on Campus collection.
Art walk: In Commemoration (registration required)
Wednesday, April 12, noon-1 p.m., begins at Christian Petersen Art Museum, Morrill Hall
Join Lynette Pohlman, director and chief curator, to explore the legacy of Jack Trice and commemorative sculptures honoring him, as well as the tradition of commemorative sculptures at Iowa State.