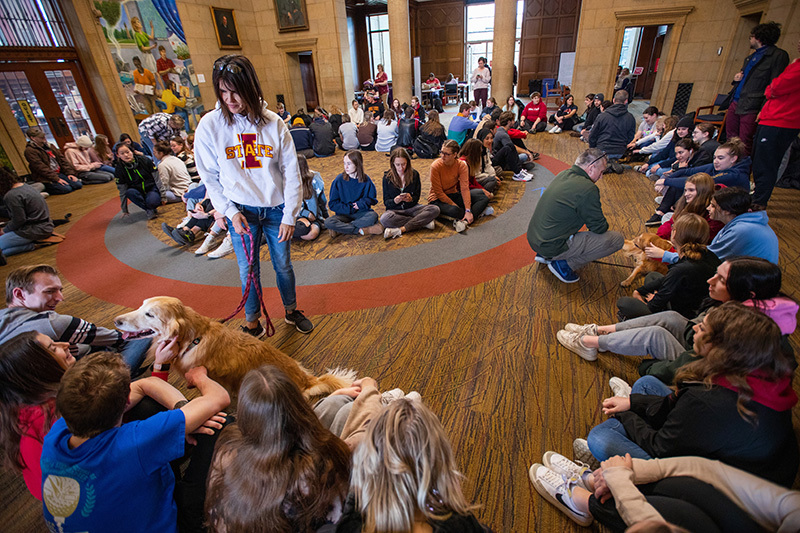 Finals week brings a range of emotions for students as they prepare to wrap up a semester's worth of work. But what is the week like for faculty and staff across campus?
Inside talked with instructors and department and unit leaders to find out.
A helping hand
Most of the Academic Success Center's (ASC) work is complete prior to finals week when tutors and supplemental instructors have assisted and prepared students. Instead, ASC staff support student accessibility services during finals week by providing rooms and proctors for students needing test accommodations. Whether it's a low-distraction environment, additional testing time or something else, staff assist more than 600 students.
There are three, three-hour testing blocks daily during finals week that begin at 7:30 a.m. and conclude at 6:30 p.m. The Hixson-Lied building provides a variety of testing rooms and environments.
"We really just want to lend our support where it is needed," ASC director Adriana Gonzalez-Elliott said. "Students come and they are nervous, and we get to be that friendly face that greets and checks them in."
The process is not as simple as handing a student a test and sitting in while they take it. For some instructors, a test must be taken at a certain time to match the rest of the class and returned within another time window. Students are only allowed to have certain materials with them when taking the test.
During finals week, staff also continue to interview undergraduate students for tutor or supplemental instructor roles the following semester.
Keys to success
Finals week is different for natural resource ecology and management associate professor Tim Stewart without lectures to prepare. Still, he tries to be available to students through the final days of a semester.
"I have changed the name of office hours to drop-in hours, and I always encourage them to come throughout the semester," he said.
Stewart said students often are looking for last-minute extra credit to earn a better grade. He doesn't offer extra credit, but works with them to identify how they can have success going forward. For younger students, it can be learning how to study, how to ask questions in class and using his drop-in time. Stewart's willingness to help comes, in part, from his own experiences in the classroom.
"I struggled in courses and remember getting a 'D' on my first biology exam," he said. "I let students know that I had trouble too, but also I tell them on the second exam I did much better because I made some changes."
When not giving a final exam, most instructors are busy assigning and submitting final grades. Stewart said there is stress for the instructor around the final grade, knowing the disappointment of a low grade for him and the student. But it also can represent the reason many instructors are in their position when they see students succeed, especially those who overcame challenges during the semester.
Finals week is a time to conclude work on committees and to continue preparations for winter session and spring courses. Accounting teaching professor Michael Bootsma is in his second year teaching Accounting 215: Legal Environment of Business during the winter session. His biggest lesson from the first year is getting content loaded in Canvas as early as possible so students see the commitment needed for a four-week course.
"During finals week, you are putting finishing touches on your winter session course and thinking about how you want to improve things for the spring," he said. "For the winter, I think it is important students can tell their family that it is a break, but they do have commitments to this course."
Burning the midnight oil
Parks Library staff get ready for longer days during exam week to ensure students have what they need to be successful. To keep Parks open around the clock for five days, night staff adjust their schedules to work overnight hours and library staff volunteers step up to fill any gaps.
"The evening staff, which typically works until 2:30 a.m., works the longer overnight hours by shifting to 8 p.m. to 7 a.m.," said circulation services librarian Cara Stone. "They are not working extra hours because they work with their supervisors to flex their time where appropriate."
The increase begins the weekend before finals and moves into 24-hour access. More than 10,000 people use the library each day, and that increases during the final two weeks of a semester. Most questions librarians field deal with food and drink, library hours and available study spaces. Individual, group and comfy study spaces are in demand, and students also gravitate to study spaces with power outlets, said head of access services Dawn Mick.
Bookends Café is open until 10 p.m. Sunday-Thursday during finals week and 5 p.m. on Friday and Saturday. To assist the late-night students, Parks, in partnership with ISU Dining, provides gallons of free coffee and fruit -- bananas and oranges -- for students. Staff members also keep an eye on students studying late to ensure their safety during long days.
Planning ahead
The registrar's office sees a lull during finals week, but it is just the calm before the storm. The office does help students who have three or more finals scheduled in a single day work with instructors to spread them out.
While students and instructors are focused on finals, the registrar staff is busy putting final touches on commencement preparations.
"I liken commencement to a wedding because there is only so much planning you can do, and then you just have to wait for it," said university registrar Jennifer Suchan.
The commencement planning team meets during exam week with volunteers and faculty marshals and confirms anyone who plays a role knows how the event will unfold, Suchan said.
When final grades are posted, the office shifts into high gear for about two weeks. Tasks include certifying student-athletes for the upcoming semester, preparing the next round of veterans' benefits, processing final grades and graduating students. The office also processes all student transcript requests.
Food for thought
ISU Dining locations across campus see an uptick in students during the final weeks of a semester when they use parts of their meal plans that don't roll over.
To give students a break from preparing for exams, the bakery hosted a gingerbread night during prep week to give Cyclones a chance to adorn a scratch-made gingerbread structure. Dining supplied the gingerbread pieces, frosting, decorations and a space to relax, with refreshments.
During finals week, ISU Dining will have a peppermint Frappuccino pop-up event on campus to wish students good luck, said dining services interim director Karen Rodekamp said. About 500 bottles will be given away in 45 minutes.