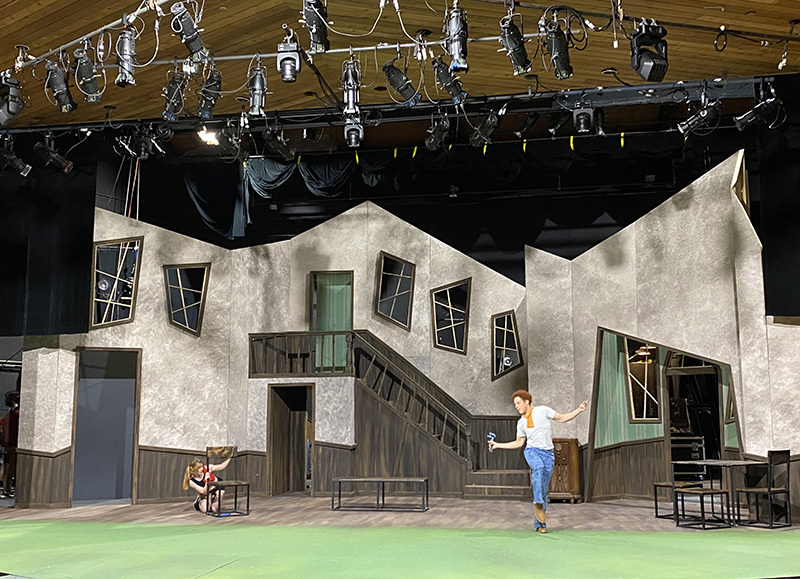 Get ready for a rock 'n' roll zombie comedy when ISU Theatre's "Night of the Living Dead! The Musical!" opens Thursday, Nov. 10, in Fisher Theater.
Inspired by the 1968 horror film "Night of the Living Dead," the musical has been called this generation's "Little Shop of Horrors." Facing a growing mob of strange, bloodthirsty creatures, three couples seek refuge in an abandoned house. Will they survive the night?
Recognized for its cultural significance, the original film launched the zombie genre and is preserved by the Library of Congress in the National Film Registry. But those with an aversion to gore don't need to worry. The musical is more goofy than gory.
"This fun, wacky adaptation of George Romero's classic 'Night of the Living Dead,' which essentially began the entire zombie genre, gives us all an opportunity to come back to live theater after these last few difficult years and share what we need most -- a good laugh," said Mary Jo DuPrey, the show's guest director.
Performances are Nov. 10-12 at 7:30 p.m. and Nov. 13 at 2 p.m. General admission tickets are $25 (free for Iowa State students and youth). The show contains adult language and content. For ticket information, visit theatre.iastate.edu.
Picking the brains of an industry expert
With an infectious rock 'n' roll score to belt out, Iowa State student cast members have spent the fall rehearsing and strengthening their vocals. Thankfully, they have the mentorship of a world-class vocal coach -- one who has worked with artists from Jon Bon Jovi to the stars of Broadway's "Hamilton" -- to guide them.
DuPrey, award-winning Los Angeles theater director and a renowned vocal coach, is the 2022 College of Liberal Arts and Sciences Dean's Artist in Residence.
"In the music and theater department, we always want to connect our students to mountaintop experiences that help them grow as people and as performing artists," said department chair Brad Dell. "This is absolutely one of them. For our students to work directly with a guest artist of Mary Jo Duprey's caliber -- it's simply phenomenal."
Junior Samuel McDaniel, who plays Johnny, said DuPrey's technical expertise transformed his voice and perspective on singing.
"She has provided a better understanding of what to do to continue improving, no matter your current skill level," McDaniel said.
Killer costuming
Excellent costumes and makeup are critical to a musical comedy about the undead. Kelly Schaefer, teaching professor of theater and costume designer, turned to 1960s and 1970s pop culture for design inspiration, including retro TV shows like "Scooby Doo," "The Monkees," "The Brady Bunch" and "All in the Family."
To highlight some characters' transitions from humans to zombies, Schaefer designed costumes in palettes that range from bright and bold to dull and dirty.