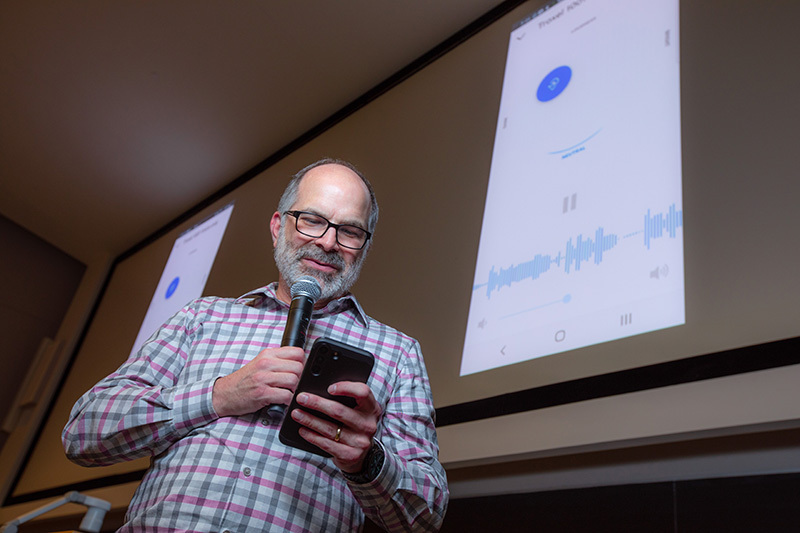 Hearing well in a large classroom can be an issue for anyone trying to understand an instructor, but especially difficult for someone who is deaf or hard of hearing. Add in anxiety about asking for help and learning can go from hard to nearly impossible.
MobileConnect is assistive listening technology that streams live audio through a Wi-Fi connection to any smartphone in the room. It also is compatible with hearing aids and cochlear implants, something not always possible. Information technology services (ITS) is testing it in three locations this academic year, including two large lecture rooms:
Room 101 in the College of Design
Room 1001 in Troxel Hall
Soults Family Visitor Center in the Memorial Union
"With accommodations, students have to request the necessary equipment and go up to the teaching station to plug it in. With this you don't have to request anything," said ITS audiovisual technician Spencer Braly. "Anyone in our student body can use this without any special requests."
Student accessibility services (SAS) director Jamie Niman said MobileConnect not only helps students learn better, but allows them to feel like a student. SAS is assisting about 40 students with hearing accommodations, but many more -- for example, those with hearing loss from military service -- could benefit.
How to use it
MobileConnect uses a three-step process that takes seconds to complete:
A student:
Connects to the "IASTATE" or "eduroam" Wi-Fi network
Downloads the free Sennheiser MobileConnect app from the app store to their smartphone
Scans the QR code that has been placed around the room to connect
An instructor uses a microphone and the sound is fed into the app. Students with accommodations don't have to take a transmitter and microphone with them to each class or ensure it is charged. MobileConnect also has two output channels, allowing users to listen to just the lecture or the lecture and any other media playing in the room.
"That's really important because it's inclusive of all students," Niman said. "We are having more neurodivergent students identifying distracting noises around them as an issue to learning."
The app's personal hearing assistant modifies sound to users' needs. Users can adjust volume or gain to isolate certain voices or reduce the harshness of the sound. MobileConnect also regulates sound if a microphone is dropped or someone talks too close to it, avoiding a volume spike in the ear.
The MobileConnect station looks like a silver modem. It can accommodate 100 simultaneous streams, Braly said.
"There is a digital signal processor that takes all of the audio signals in the room and acts like a mixer," he said. "MobileConnect is hooked up to that and can be controlled by the instructor using the touchscreen on the computer."
Going forward
Braly and ITS audiovisual experience manager Mike Pedersen will monitor the use of MobileConnect for the remainder of the year. It could be added to campus lecture rooms with 100 or more seats, roughly 32 locations, according to Pedersen.
"We will look at metrics to see how much use it gets and the length of connection to judge if people like it," Braly said.